Content Schedule 2023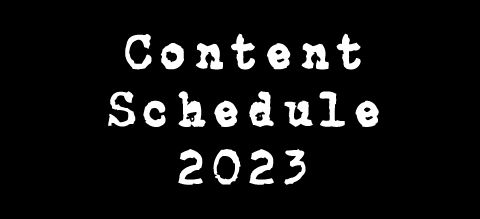 As you might have noticed, I've been pouring a lot of energy back into creating on-line content.
For a while, I couldn't. Too many life changes and ups and downs. But now things have settled somewhat so I'm able to do things writing- and publishing-wise again.
Here is the current weekly content schedule that's planned for the remainder of 2023:
Sunday – REALM OF HEROES AND MONSTERS: STORY TIME with A.P. FUCHS
Monday – YouTube video
Tuesday – Misc. blog post
Wednesday – Misc. blog post
Thursday – Misc. blog post
Friday – Book Spotlight Video
Saturday – THE CANISTER X TRANSMISSION
And, of course, throughout the week there will be a few shorts and reels via YouTube and TikTok, Facebook and Instagram.
And what of the ads on the site, Fuchs? Aren't they a little instrusive? Yes, they sometimes can be and I'm still figuring out proper ad placement so it doesn't interfere with your site experience. However, these ads are how this site and FREDRIKUS's gets paid for. The entertainment machine isn't free and is, frankly, quite costly. A great help would be if you took a microsecond and clicked an ad or two on your way to your next on-line destination as a way of "leaving a tip." There's also the PayPal button for donations in whatever amount you want.
But the biggest thing you can do for me is subscribe to my YouTube channel. I'm really trying to grow it and your subscription goes a long way in helping with that so thanks in advance.
As for 2024's content schedule, I don't know just yet. Right now I'm focusing on finishing the year off strong. I'm sure a 2024 announcement will come along at some point.
Thank you for hanging out at my website this week. Much appreciated.
Peace.