A.P. Fuchs 2023 Studio Tour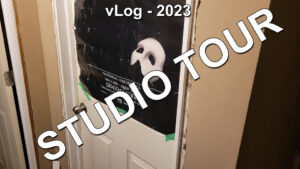 Well, here it is: Home sweet home.
It's definitely not like other writers' offices with books everywhere and a computer. It's also not like your traditional artist studio with the smell of paint on the air and lots of brushes and pens laid out.
When I say in my newsletter I work in a bunker, well, you'll see that I'm not far off.
My studio was originally going to be a basement bathroom but the previous owners of the house didn't finish it. They got as far as framing it and marking out on the cement floor what goes where (i.e. the tub here, the toilet there, etc). So, I went out and got a roll of carpet, cut it to size, put it down, then put all my equipment where I wanted it to be. What I forgot to mention in the video is the computer desk I'm using I've had since I was about 5 or 6. It's small, but I've made it work and the room is too small to put in something new from IKEA or wherever. Besides, one of the drawers has a sticker on it one of my kids put on it when they were toddlers. Yeah, I'm sentimental like that.
Anyway, this is it, the A.P. Fuchs 2023 Studio Tour. This is where I produce my books and comics and make sure they get out to you.
Hope you dig my little nerd's nest.
Welcome to the real-life Realm of Heroes and Monsters!
As always, don't forget to subscribe to the YouTube channel, especially with the Realm of Heroes and Monsters: Story Time Podcast debuting this Sunday.