Axiom-man/Crimson Cloak: Scarlet Synergy Coming Soon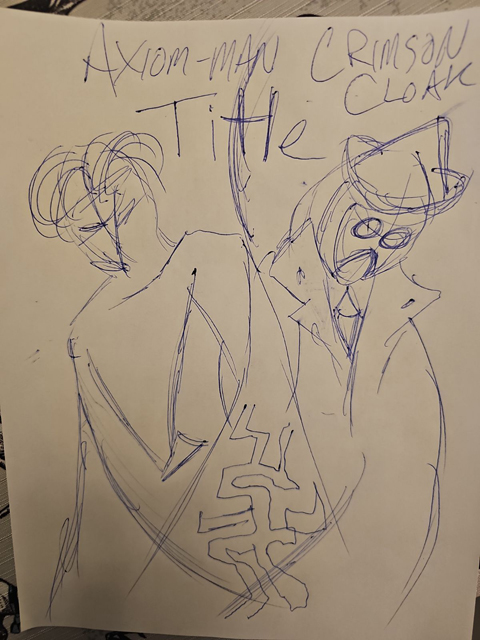 For those who read this past Saturday's newsletter, you know I had an Axiom-man novelette that I needed to do something with. Well, the decision has been made and this week I've been expanding it into a longer adventure team-up story.
THE AXIOM-MAN SAGA in terms of the main series features Axiom-man in solo adventures whereas the team-up stories are side tales.
AXIOM-MAN/CRIMSON CLOAK: SCARLET SYNERGY is one of them.
What you see above is the cover, that is, what the cover looks like before it's made into an official book cover. All covers to THE AXIOM-MAN SAGA are designed by me then the crude sketch is handed over to Axiom-man cover artist Justin Shauf for pencils and inks.
My hope with this cover is to do something different in terms of superhero covers and it's all in the coloring. I've never seen it done before but I think it's a unique concept that can be pulled off. Stay tuned.
Due to book production time, this won't be released before 2023's clock runs out but look for it early in the New Year.
In the meantime, check out THE AXIOM-MAN SAGA to get caught up. Thanks and enjoy some good superheroic reading time.
Peace.
–APF