Stay Focused Social Media Blocking App and Timex TW5M23300 Watch.
Last week I was off-line except for a couple of tasks that needed doing via the Internet (like administration). To ensure I remained off-line–I'm just as human as the next guy (I think)–I got an app for my computer phone called Stay Focused. This app can block any app on your phone and, in the free version (which I used), can block up to 5 apps at once. You set a schedule by telling it which hours and what days you want certain apps blocked. I applied these to the social media apps on my pocket computer to keep me on lockout. While true I'm in Broadcast Mode in the winter, as part of broadcasting I sometimes need to go into an app like Instagram and post something. The problem is one glance at the feeds can quickly lead to two, then three, and so on, and the next thing you know you've fiddled away an afternoon scrolling and scrolling and refreshing and scrolling.
This picture is a screenshot of the app from the day I went dark. You can see the stat on there says I've already tried opening the app 3 times and each time it didn't work (was running tests). The timer on locking me out of these apps ran for a week. And it worked! Once I knew I was locked out, I didn't give the apps a second thought.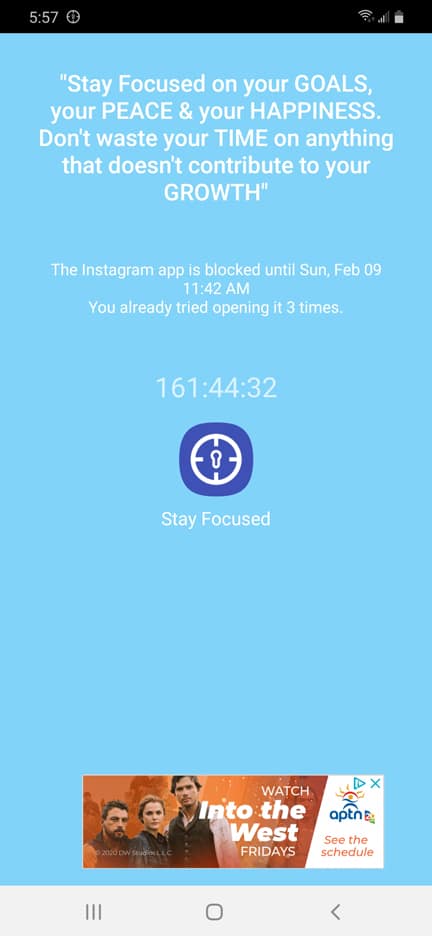 Stay Focused also acts as a master lock, meaning you have these little locks under it (like the apps you're blocking), but then you can lock Stay Focused itself–but only in 6-hour chunks in the free version–to ensure you don't unlock your blocked apps. I'm assuming this is for extreme cases where certain people need a double padlock on their phone. To get even more extreme, I'm pretty sure there's a lock on Stay Focused that forbids you from uninstalling it in an effort to destroy your barriers.
What was interesting was it kept track of how many times I unlocked my phone to do something, like reply to a text from family. I was disgusted when I saw, at the end of one of the days, I had unlocked the phone around 35 times. I barely used it that day! But numbers don't lie. I barely used it? That was 35 times in the span of 12 h