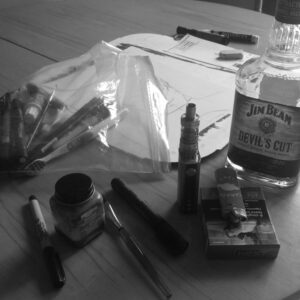 This is a note to let you know I'm still alive albeit working hard down in the mines. The picture you see is the current art table complete with stimulants to keep things going.
I'm prepping two series for Instagram, and writing Axiom-man/Auroraman: Frozen Storm. Progress is being made on all three fronts.
This is also a friendly reminder to tune into my weekly newsletter, The Canister X Transmission, for updates as to what's going on and how insane I'm getting chipping away at these rocks somewhere around the planet's core. Trust me, I'm starting to lose it down here.
Presently, I'm sitting on a block of work outside of the aforementioned projects. There are four books already written that need to go through the production process before release. The Axiom-man/Auroraman title makes it five. Once this superhero book is done, it's off to the races and to pumping out book after book in the hopes of entertaining you guys.
Then I'm gonna nap. Forever.
But on the off chance I awake, it'll back down here with the shovel and pick-axe, working away.
We're getting there, people. New books are coming.
I need a drink.