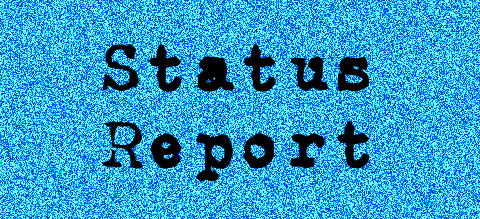 Status Report – 091823:
It's official. It's done. As per this blog entry, ZOMTROPOLIS: A RECORD OF LIFE IN A DEAD CITY is complete. See the entry for the next steps in the process.
Also what's done is THE CANISTER X TRANSMISSION: YEAR FOUR and THE CANISTER X TRANSMISSION: THE LONG YEAR FIVE. Those went off to press late last week. Now it's just an issue of the printer processing the files, sending me a proof, me approving it then getting it into distribution. Like the other collected editions, they will be available in paperback and eBook and contain a bonus issue of the newsletter exclusive to those collections.
We're programmed until the end of November thus far in terms of Book Spotlight Videos and the REALM OF HEROES AND MONSTERS: STORY TIME podcast. Other stuff is complete behind the scenes but not uploaded yet.
For those who missed it, THE CANISTER X TRANSMISSION newsletter is back. The new issue went out this past Saturday. Subscribe here for this Saturday's issue.
Other than that, I'm pleased that I finally was able to share the FREDRIKUS animated short with you. I've been wanting to for the past couple of years but needed the adapter to connect my very old VCR to my also-old computer. I finally got one and the video was shared. There was some additional brief animation on the reel as well along with a few pieces of artwork. I'm not sure if I'll upload it or not. I'll have to think of a way to make it longer because the segments of animation and the few pics last all of twenty seconds. But they're cool pics. Three-point perspective, some modern, some sci-fi.
We'll see.
Anyway, I'm pretty tired and I still have work to do.
A.P. Fuchs signing off.
Peace.
This has been your Status Report for 091823.