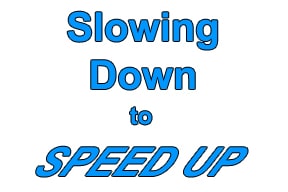 Slowing Down to Speed Up: Blogging Schedule Shift.
There is a lot on the go. Working at 1000mph has birthed all sorts of pathways and roads to travel down. Problem is, I only have one car.
You get the parallel.
This note is to inform you my new working method is based on the concept of slowing down to speed up. This is healthy for you, healthy for me, and healthy for 2020's goals and projects as a whole.
So here is the new blogging schedule:
Whenever.
Simply put, the blog is short-term switching over to me posting when I feel like it or have something to say or want to show you something. Knowing me, it'll still be fairly regularly but not on the Monday-to-Friday-mornings schedule. Going to keep things fluid for the time being. Be sure to check in as part of your Internet rounds, but bear in mind I could be posting any time of day. New posts will also be shared via the social networks as per usual.
We're at a place with the workload where something relatively large needs to drop to Low Power Mode and the blog was selected.
Be sure to subscribe to my weekly newsletter, The Canister X Transmission. Each issue has a blog headline rundown as to what posted during the week so it's another simple way to be notified of new content. It goes out Saturdays.
Thanks.