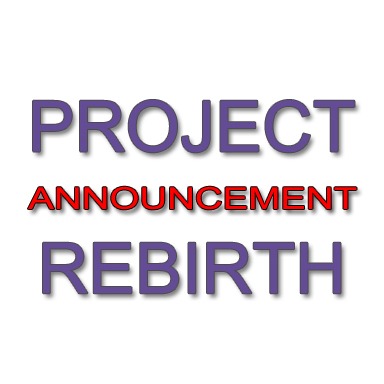 Project Rebirth: Final Update and Announcement given this sixth day of the twelfth month in the year 2019 AD.
It's been a long, busy journey, but Project Rebirth is complete up to the point where I can transfer out parts of the project into the "things I need to finish" category, in other words, what's left to do is the "more" part that I've mentioned in previous updates.
So, as always, a recap of what's complete and what that strange "more" is all about.
The following list is taken from the last update on Project Rebirth.
Resumption of my newsletter, The Canister X Transmission: Goes out every Saturday and has been for a while now. Please subscribe here and get yourself a free thriller e-novelette as a thank you for joining me.
A Patreon account with special content just for patrons: All systems have been in go mode for a while now, too. By becoming a patron, you get access to an ongoing serial novel, essays on the creative life, a look behind-the-scenes, and other fun stuff. Joining the journey supports what I do and keeps the projects alive. Please join my patrons and I on my Patreon journey here.
Order fulfillment of the Axiom-man/Auroraman: Frozen Storm Kickstarter: All the books are printed up. Special piece of exclusive art to the Frozen Storm lettered edition needs a final touch, printing, then into the books.
Publication of projects that were temporarily put on hold: See the "more" section below.
Bigtime expansion and growth of The Axiom-man Saga and associated products: Transferring this portion of the project into the "things I need to finish" category. Keep an eye on this blog for news and updates as we bring the Cobalt Crusader into 2020. I really want to get that long-awaited Battle of Power Trilogy storyline done and published.
Revving up public appearances and media again: Best place to keep up to date with these is via the Convention and Book Signing Schedule page on this site. Please go there to check out what's booked so far. Regarding interviews and whatnot, those will be announced on the blog when they happen and will also be listed under the Interviews section of this site.
New YouTube channel: Been running for a short while now. New videos uploaded regularly. Please subscribe here so you don't miss the latest video.
More . . . : A Web presence redesign along with a retooling of the social media pages was part of this and is complete. There is more SEO stuff to do to properly bring the blog into the New Year, but that is a pick-at project for when I have the time and there's no real deadline other than, say, by spring or something.
The big part of "more" is this: Book redesigns!