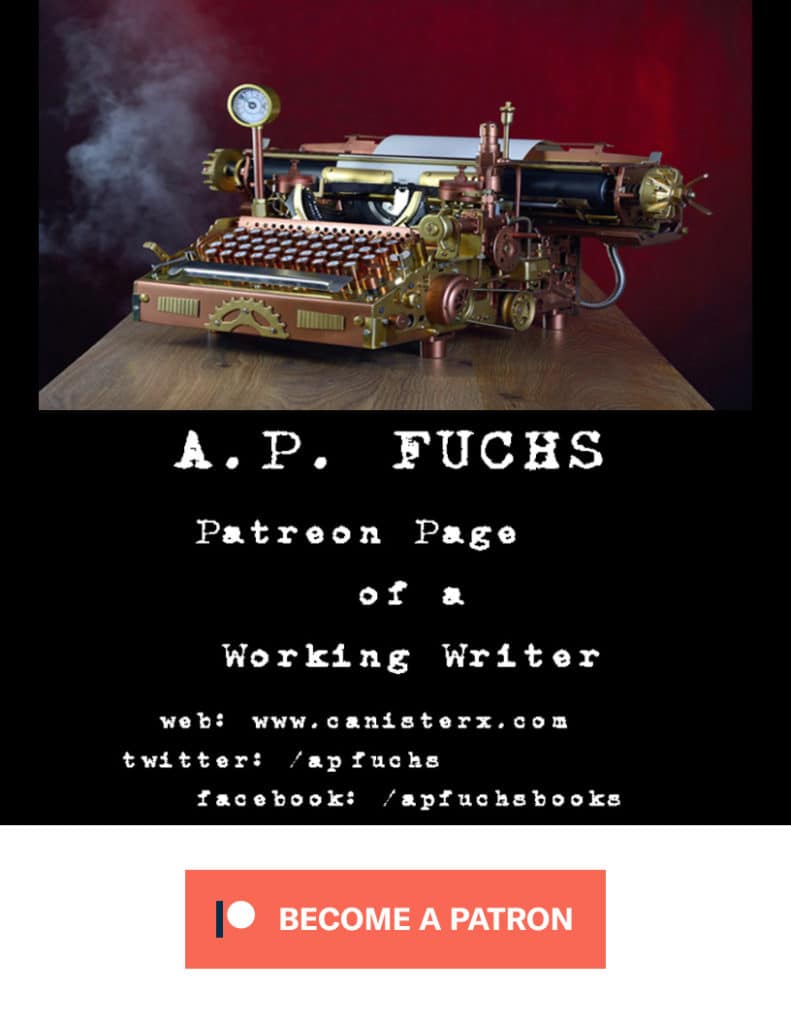 I have officially joined the world of Patreon!

Lots of planning went into this and now I'm able to finally share my page with the world. I hope you join me.

Here is a rundown of the current offerings and tiers:

Serialized Novels

For $1, you get access to an ongoing serial novel (minimum of one chapter posted every two weeks). Current creature feature playing is GIGANTIGATOR DEATH MACHINE, an homage to classic B-grade monster horror following a group of friends on a cabin getaway only to meet something sinister at the docks.

Patreon-only blog posts.

Essays

For $2, you get complete access to the serial novel.

Patreon-only essay blog posts exploring the ins and outs of publishing and tricks on getting your work done so you can share your craft with the world. (Minimum of one essay per month.)

Regular Patreon-only blog posts.

Behind-the-scenes

For $5, you get access to the serial novel.

Patreon-only essay blog posts.

A look behind-the-scenes (whether text, photo, or video; advanced looks at works in progress).

A nifty A.P. FUCHS/CANISTER X Official Membership Card mailed out to you with your name and membership number.

Gold Standard

For $30, you become a member of the A.P. FUCHS BOOK-OF-THE-MONTH CLUB. Each month I will select a book or comic book of mine from my inventory and mail it out to you complete with signature for the duration of your Gold Standard patronage.

You also have access to all other reward tiers, including your membership card.

And there you go. These are the tiers and rewards I'm starting out with. I'm excited to see where this journey takes me. Please consider joining me. Please also tell your friends, share via your social networks, and any other way you can think of to help spread the word.

Thank you.

The official link is www.patreon.com/apfuchs

See you there!