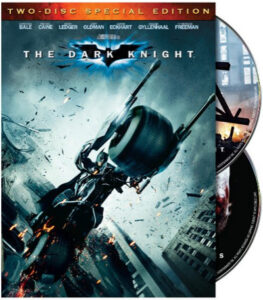 The Dark Knight (2008)
Written by Christopher Nolan and Jonathan Nolan
Directed by Christopher Nolan
Runtime 152 min.
5 out of 5
Where do we begin?
Three years ago, movie-goers wouldn't dare touch a Batman movie. I mean, what happened? Did you get your act together and deliver us one of the best Bat-flicks ever?
Seems so.
And now you've done it again . . . times ten!
Batman has made a difference in Gotham. Criminals are running scared. Underworld organizations are toppling. He has indeed become the symbol he set out to be.
Now a psychotic clown-faced criminal is tearing his way through the Gotham City underworld, quickly establishing himself as the Clown Prince of Crime. His method: death, and lots of it. His motive: madness. But is he crazy? As he would say, "I'm not. No, I'm not." And he's right. He's not crazy. This man—this "Joker"—is brilliant, and if he gets his way, Gotham will fall into his hands.
Unless Batman can stop him.
The Joker's reign of terror starts in the underworld but reaches deep into Gotham's social structure, various men strategically placed throughout the police, mayoral offices, everywhere. And they listen to him. Except for Gotham's White Knight, Harvey Dent, the do-gooding district attorney who's dedicated himself to cleaning up Gotham and taking down the crime syndicates that have oppressed it for so long.
Death reigns supreme in this movie. People die, and Batman is faced with the hard choice of becoming that which he hates . . . or risk losing Gotham and those he loves to this madman.
I cannot say enough good things about this movie. Going into this thing back in 2008, and despite the crazy good trailers for The Dark Knight, I wasn't sure if Batman Begins could be beat or even tied. Batman Begins was what put serious superhero flicks back on the map in a big, big way. It was what restored the faith of us fans in DC Comics and gave us hope that they started the journey to taking down their number one competitor at the box office, Marvel. And with Superman Returns being just plain poopy, I hoped against hope they'd at least get Batman right a second time.
And they did. They so did and me and everyone in that theatre were gushing with joy that not only was The Dark Knight as good as Batman Begins, it was even better.
Christian Bale delivered another solid performance as Bruce Wayne/Batman. The new suit rocked hard. Loved the detail. Though he was less buff than the previous film—why? who knows? You'd think a crime fighter would maintain a fitness regimen—he did a great job differentiating between the boring and dull playboy Bruce Wayne and the rage-filled-justice-driven Batman. My only issue was the voice. In Batman Begins, it was gruff, cool and tough. In this one, he sounded like he was growling the whole time and he had to force the words out to make them all gravelly. (And, FYI, WB, Batman's voice doesn't have to be like he's talking through pebbles and sand; Kevin Conroy proved that.)
Heath Ledger's Joker was utterly amazing. Creepy. Gothic. Funny, but not comical (like Jack Nicholson's was). Eerie, disturbed, crazy—delicious. What I loved the most was two things: 1) the clown makeup was just that: makeup. At first I didn't like this idea and wanted the Joker to have been a victim of an acid bath ala his comic book backstory, but after watching the movie, I see why they went this route. Bringing us to 2) Joker was a genius. It was his brilliant criminal mind that enabled him to quickly establish himself as a powerful evil force in Gotham and the makeup was his edge in doing that both in a scary-because-I'm-crazy way, but also it made others think he was merely a lunatic in turn making them drop their guard so he could move in.
Once more, I really dug Gary Oldman's James Gordon and seeing him officially become commissioner in this was cool.
Likewise Aaron Eckhart as Harvey Dent and, eventually, Two-Face—hey, he did a good job on both sides of the, um, coin. My only thing with Two-Face in this flick was that I wasn't expecting him to show up. I thought this movie would est