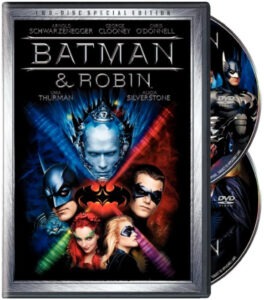 Batman & Robin (1997)
Written by Akiva Goldsman
Directed by Joel Schumacher
Runtime 125 min.
2 out of 5
A freeze is coming.
Gotham is under siege, this time by not one but three supervillains: Mr. Freeze (Arnold Schwarzenegger), Poison Ivy (Uma Thurman) and Bane (Jeep Swenson).
The Dynamic Duo (George Clooney and Chris O'Donnell) is called to the rescue despite the tension growing between them. Complicating things, Barbara Pennyworth (Alicia Silverstone), Alfred's niece, has come to Wayne Manor to liberate her ailing uncle from a life of servitude. She also has a secret: a wild side that needs to be tamed.
When an all-out assault is declared on Gotham by Mr. Freeze and Poison Ivy, the caped crusaders rise to the occasion, and this time they have a little help.
If you took the cheesy, camp-filled '60's Batman series and shot it with a huge budget, tons of effects and modern day equipment, Batman & Robin is what you'd get (and is what we got).
Clearly this was the film that killed the Batman franchise. It took eight years for Warner Brothers to recover from the disaster that was this movie.
The story—the "what it's about"—though farfetched, is bearable. It's the dialogue and stupid jokes that catapult this Bat-flick a zillion miles into the campy canyon.
On the plus side, if you watch this movie solely for the bright colors, glitter and action, you'll have a good time.
If you're looking for substance, go back to the beginning, namely Burton's '89 triumph.