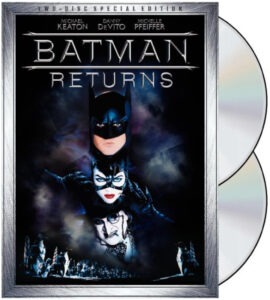 Batman Returns (1992)
Written by Daniel Waters
Directed by Tim Burton
Runtime 126 min.
3.5 out of 5
A mysterious "penguin man" surfaces and takes the city by storm, so much so that evil business tycoon Max Shreck, played by Christopher Walken, thinks he can turn Penguin into the city's new mayor. But Penguin is not all what he seems and he secretly controls the Red Triangle Gang, who are wreaking havoc across the city.
Adding to the mix is one Selina Kyle, Shreck's lowly assistant, er, secretary, who, after a bad night with her boss, becomes Catwoman.
The Bat Signal shines and the Dark Knight returns to once again rid Gotham of chaos and restore order.
Michael Keaton is back as Gotham's Guardian and brings to the role all the mystery and edge that made the '89 movie so popular. What's even better is that this movie actually has Batman in it and the vigilante appears, clad in black armor, more than just four times like in the previous flick.
Danny DeVito as the Penguin does a great job given what he had to work with. Though the Penguin in this film is not the same as the one in the comics, DeVito still did well portraying a man who was born . . . a little different.
Michelle Pfeiffer pulls off the dual role of Selina Kyle/Catwoman nicely. In fact, she plays four distinct roles in this film, all in one character: nerdy Selina, hip Selina, crazy Selina and Catwoman.
This film is filled with action, darkness and fun, all set in Tim Burton's eerie Gotham City, which was a character on its own in this film and its predecessor.
It's the hokey plot that's earning this film a lower rating than the previous one. Had the story been better, this movie had the potential to be one of the best superhero flicks ever.