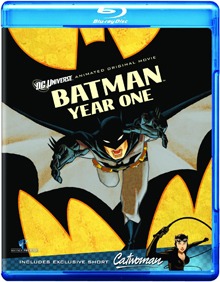 Batman: Year One (2011)
Written by Tab Murphy
Directed by Sam Liu and Lauren Montgomery
Runtime 64 min.
4.5 out of 5
After spending many years abroad, Bruce Wayne returns to Gotham City to fulfill the vow to rid it of crime that he made to his deceased parents when he was a boy. At the same time, Chicago cop James Gordon moves to Gotham to start with the GCPD. Soon, Bruce adopts the identity of the Batman and makes war on Gotham's crime families, with James Gordon hot on his tail as the cop tries to take down the vigilante crime fighter.
I love origin stories. The mythology of characters, their history, their motivations, the events leading up to the creation of a super identity—all of it's gold in my book. Batman: Year One is such a story, giving you not only Batman's origin, but the chance to walk a mile in his shoes during his first year as a crime fighter. You get to see him test the waters, make mistakes, have some wins and losses, and watch as he earns the trust of Gotham's finest.
This movie is a down-to-earth story about Batman and James Gordon, very much a crime story versus a superhero-vs-supervillain tale. Batman deals with real world criminals in real world ways. You also get a glimpse into the hard life he leads, what he gives up to be Batman, and how he balances life as a fool in the public eye so he could be a fear to the criminal underworld at night.
You also get to see a different side of James Gordon, the marriage trouble, his humanity, and the plight of being a good cop in a bad town. His portrayal makes him every bit a hero as Batman in this story.
This flick is based on the one-shot comic book by comics superstar Frank Millar and matches the book's style for the most part, really bringing it to life.
This is a story of beginnings so the pacing is different than what most people are used to, and instead of having a beginning, middle, big lead up to a climax then end, it has—to me, anyway—more of a beginning, middle and then part of an end because it's really a prequel to all the other Batman stories that come after it. Which is fine. It works, but I remember going, "Is that it?" when it ended after I first watched it.
I'm glad that Batman's first year was brought to the small screen and I hope more first year stories are made for other heroes. Superman next would be great.
Recommended.