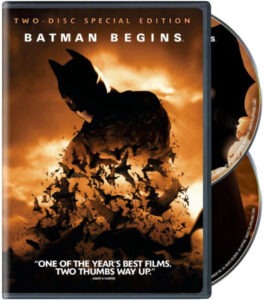 Batman Begins (2005)
Written by Christopher Nolan and David S. Goyer
Directed by Christopher Nolan
Runtime 140 min.
5 out of 5
Bruce Wayne's parents are brutally murdered right before his eyes. He is only eight years old. His father holds his hand. His mother lays in her own blood beside them. His father's dying words: "Don't be afraid."
Vowing vengeance, Bruce travels the world, learning all that he can to become a one-man army against crime. He leaves behind the life of a billionaire playboy and instead seeks to find the man rooted in pain and anger, the one inside him.
Trained by a man named Ducard, a representative of Ra's Al Ghul, Bruce learns how to harness his rage and use it to exact vengeance on those who would dare break the law.
But to do so as Bruce Wayne would only put those he cares about in danger and would not be the symbol required to get the job done, and so is born . . . the Batman.
Drugs are secretly being pumped into Gotham City's waterways, the underground crime circuit somehow connected to a mysterious figure overseas who has big plans for Gotham. No one knows his face . . . until it's too late.
Jonathan Crane, aka the Scarecrow, uses his position in Arkham Asylum to get the inmates gathered for what's to come, and when the moment finally arrives, all hell breaks loose on Gotham's streets.
The night grows dim, the knight grows dark.
Batman is born.
Wowser.
This flick was amazing.
After the disaster that was Batman & Robin, I was so scared about how this would turn out. Sure, the trailers looked cool, dark, and edgy, but studios always put the best bits in the trailers anyway. All we had were hopes and good-sounding quotes from those involved in the film's production.
And, man, did they deliver!
This stuff was real. Real-real. Batman Begins was grounded in reality in a way I hadn't seen since X-men. This stuff could really happen. It was that tone that brought a level of seriousness to the movie that the other Bat-flicks—except Batman in 1989—didn't have. This wasn't a superhero movie, but a story about a man lost in rage, darkness and needing a way out. It was about the very real contrast between revenge and justice, and making right what once went so terribly wrong.
It's a story about redemption, love, and fighting to protect strangers in a city where crime, filth and evil are the everyday norm.
Christian Bale is Batman. Period. When the mask was on, you could tell Bruce was channeling pure rage and distaste for evil, focusing all that anger on the task before him. When the mask was off, he was the Bruce Wayne who was a spoiled rich boy, dumb, and no one took seriously. Excellent duality.
Katie Holmes as Bruce's childhood friend/love interest, Rachel Dawes, was a good thing. The other Bat-movies always had a girlfriend for him. Though there was romantic interest here, it was rooted in friendship, which was a nice change.
Michael Caine as Alfred—brilliant. He was your loving father-figure, yet was stern with Bruce when the need arose, and even got behind him despite reservation when Bruce told him his grand plan for saving Gotham. Only the love of a friend would allow such a thing: to believe in an ideal and not necessarily the method.
Cillian Murphy was downright creepy as Jonathan Crane/Scarecrow. I only knew him from 28 Days Later so wasn't sure how he'd play this. Let's just say I was happy.
Liam Neeson as Ducard/Ra's Al Ghul was all right. As Ducard, sure, made sense. He did a great job as Bruce's mentor. The two were the same at heart. Just chose different paths. As Ra's—that twist didn't surprise me (solely because I stumbled upon the script online before I saw the actual movie), but it did surprise me in the sense that Liam Neeson will always be Qui-Gon Jinn to me. It was hard to see him as a bad guy.
Gary Oldman is James Gordon. He looked the part, acted the part, and I fully sympathized with him being pretty much the only good cop in a bad town.
Batman Begins is the quintessential Bat-film.
Very recommended. Ten times over.