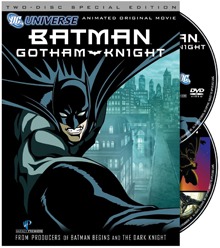 Batman: Gotham Knight (2008)
Written by Brian Azzarello, Josh Olson, David S. Goyer, Greg Rucka, Jordan Goldberg and Alan Burnett
Directed by Yasuhiro Aoki, Yuichiro Hayashi, Futoshi Higashide, Toshiyuki Kubooka, Hiroshi Morioka, Jong-Sik Nam and Shojiro Nishimi
Runtime 75 min.
4.5 out of 5
Okay, now this is how you do something new with a character and do it right and totally change the formula. Not only was the style of Batman animation changed—this whole movie is done in anime by genuine Japanese anime directors—but also instead of giving us one big story, why not give us six shorter ones in the same universe?
This flick was meant as a bridge between Batman Begins and The Dark Knight, giving audiences an in-depth glimpse into Batman's past and what he's been up to between those two movies. To make it even sweeter, Kevin Conroy voices Batman for all six short films.
They are (and what I thought):
Have I Got a Story for You –
Premise: A bunch of skater kids relate to each other firsthand encounters with the Dark Knight.
Really good, each story seeming to center around Batman chasing the same thief. The art direction is ridiculous! Did you see the backgrounds in this thing? While the character designs for this vignette were so-so, the backgrounds were insane. What makes this vignette special is it shows how the Batman legend was born, that is, people swapping stories, relating what they thought they saw versus what really happened, and how one tale leads to another until, eventually, Batman is myth and man combined.
Of course, sometimes the facts get straightened out, as per the ending of this story. You'll have to see for yourself what I mean.
Crossfire –
Premise: Two cops take a recently-dropped-off-by-Batman felon to the Narrows for incarceration. There they encounter tons of trouble and Batman comes to the rescue.
This one is much grittier than the previous story, focusing heavily on the cops and gangs. The art is superb and while the backgrounds are more classical animation, the character design is top notch and I really dig how everyone looks in this tale. Batman is boss in this: big, powerful, sleek, tough—wish he looked like this all the time. Well done.
The main point of the story is the question: is Batman an ally? One cop thinks so, the other is skeptical, and the conclusion reached? Well, you'll just have to see this wicked cartoon for yourself.
Field Test –
Premise: Lucius Fox shows Bruce Wayne some new gear he can use as Batman and he gets a chance to do just that.
How does anyone draw this good? The backgrounds are so realistic it's upsetting (in that good way). The character design is very classic anime: pointier noses, smaller eyes, very realistic body proportions.
Batman definitely has a unique style to his suit in this; not your classic uniform but it works. I also like the change of pace by showing his eyes instead of having just whites. I think this is the first time Batman's been animated that way.
All in all, this vignette was great and there is a moral to the story about Batman's stance on guns and how he understands the need to defend himself against them . . . but not at another's expense.
In Darkness Dwells –
Premise: When a congregation starts going crazy during a church service, Batman thinks the Scarecrow is to blame. Instead, he's greeted by someone far more dangerous: Killer Croc! However, Scarecrow is still waiting in the wings.
Visually, this vignette is very comic-book-like. I see glimpses of Mike Mignola's—Hellboy artist and creator—style though I doubt that the animators were trying to imitate that. It's just what it reminds me of.
This one was pretty exciting. Lots of action, lots of danger, lots of Batman stopping baddies and getting out of tight situations. Dig it.
Working Through Pain ̵