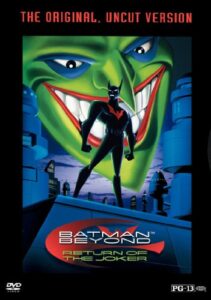 Batman Beyond: Return of the Joker (2000)
Written by Paul Dini
Directed by Curt Geda
Runtime 77 min.
5 out of 5
He was thought dead. The laughter was supposed to have ended.
But evil never dies.
The Joker is back!
His mission? Why, give Gotham a wedgy again!
But this Gotham is different than the one the Joker left behind. It's a new Gotham with a new Batman.
Plenty of surprises abound in this thrilling chapter in the Batman Beyond universe.
This movie is brilliant, pure and simple.
I've seen both the regular and the uncut versions of this film and it's the uncut version that's being reviewed here (the regular is virtually the same and has only a few altered scenes).
The uncut version doesn't hold back and isn't sensitive to the viewer's eyes. This one's much more violent than the regular version. In the original release, certain events were only implied. In this one, they are shown. (If anything, I was surprised at how graphic this cartoon was compared to the Batman Beyond and Batman: TAS episodes.)
Ah, yes, the joys of direct-to-DVD releases.
The Batman in Batman Beyond, Terry McGinnis, is real. You care about him, you relate to him. You want to be him even when the tension mounts between him and his mentor, Bruce Wayne.
The Joker's nasty in this and once more Mark Hamill, with that creepy laugh of his, reminds us why he was born to play the Joker. The dialogue, the jokes—utterly fantastic!
The story is stellar, with multiple plots going on at once. It also answers the questions you have about the fate of the characters from Batman: TAS, which had a series finale that fell flat. (It was just another episode, really.)
The first time I saw this film I couldn't believe what happened to one of the Bat regulars. It still blows me away every time I see it. Wow.