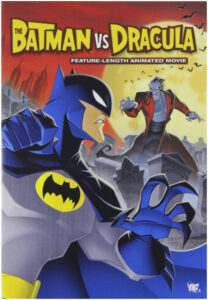 The Batman vs Dracula (2005)
Written by Duane Capizzi
Directed by Michael Goguen
Runtime 83 min.
4 out of 5
What starts as a treasure hunt by the Penguin soon turns into a near-apocalyptic ordeal when he accidentally revives the legendary Dracula. Immediately, the prince of darkness begins to feed, snatching innocent citizens of Gotham from its streets.
Darkness blankets the city and the Caped Crusader is all who stands in the way between Dracula and the city's doom.
Wow. That was my first reaction when watching this. This direct-to-DVD release doesn't view as your standard Batman cartoon. This truly is a monster tale and views more like a horror movie than a superhero flick.
The vampires in this film are scary, looking like something between a vampire and a zombie. Dracula himself is neat, trim and suave, yet carries a presence of death.
This DVD also introduces Batman's love interest, Vicky Vale (who appeared both in the comics and in the 1989 movie). I have yet to discover how much of a role she will have in the half-hour episodes of The Batman series (I have only watched up to season three), but it was great to see her on screen. It was also wonderful to see Bruce Wayne dealing with a female lead in a realistic way and having once again come face-to-face with Batman getting in the way of his personal life.
A surprising touch to this film was the Joker, not so much the character but what happens to him. Cool indeed.
This is a solid Bat-flick, one which is definitely meant for an older audience, not for kids. Thirteen or fourteen and up, I'd say.
This flick is a keeper, one every true Bat-fan should have.