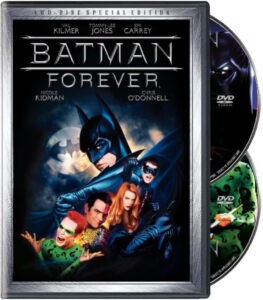 Batman Forever (1995)
Written by Lee Batchler, Janet Scott-Batchler and Akiva Goldsman
Directed by Joel Schumacher
Runtime 121 min.
3 out of 5
Two Face has been terrorizing Gotham for a while and after executing a terrible sentence at Gotham Circus, he inadvertently changes the life of the Dark Knight forever by setting in motion a chain of events that lead to the birth of Batman's legendary partner, Robin.
Continuing in the "double villain" trend as established by Batman Returns, a disgruntled—and stalker-ish—employee of Wayne Industries, Edward Nigma, gets revenge on his boss by becoming the Riddler, and steals his way to the top of the technology enterprise game.
It's two-on-two in this third installment of the Batman franchise.
Riddle me this: what do you get when you cross Adam West and Michael Keaton? You get Val Kilmer's portrayal of Batman, one who is part serious and part humorous. This is the film that I've always viewed as the "transition piece" between the dark Bat-flicks done by Tim Burton and the all-out camp-fest that is Batman & Robin.
Though a bit over the top, the story of Batman Forever is a good one and if you watch it just for that, you'll highly enjoy it.
It was the humor that brought this film down.
First, Batman ain't funny. He's so serious and dry he makes Al Gore look like Superman.
Second, Two Face isn't funny. Tommy Lee Jones, as much as I enjoy him as an actor, got the character wrong. Two Face is a gangster not another version of the Joker.
Third, Riddler isn't all whacky and zany, though by director Joel Schumacher's choice to cast Jim Carrey in the role, it's evident he was after Frank Gorshin's Riddler from the '60s instead of the comic book Riddler. Jim also got this part shortly after he became super famous so obviously this role was playing to his strength of being a rubber-faced whack job.
Fourth, though it was a neat thing to add Robin to the mix, Chris O'Donnell was too old, but, I suppose, having a kid running around in an anatomically-correct rubber suit would have raised too many questions.
This film was 50/50 for me. Had its pluses and minuses. I'm going to leave this in the "decide for yourself" category.