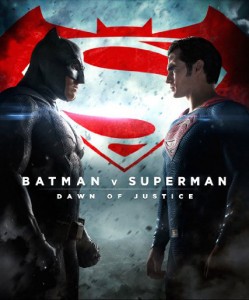 Batman v Superman: Dawn of Justice (2016)
Written by Chris Terrio and David S. Goyer
Directed by Zack Snyder
Runtime 151 min.
4 out of 5
After witnessing the battle between Superman and General Zod in Metropolis, Bruce Wayne takes it upon himself to ensure the Man of Steel isn't a rogue alien who might one day enslave the human race. In the meantime, Lex Luthor has sworn to ensure humanity's survival by securing for himself Kryptonite, which is later discovered to be the one thing that can weaken Superman. Worse, Luthor has a secret project tracking metahuman activity across the globe, which prompts Diana Prince to obtain the confidential data he has on her. To complicate matters, Luthor has also acquired the body of General Zod and creates from it an unstoppable killing machine—Doomsday, a being more powerful than even Superman. It's going to take Batman, Superman, and Wonder Woman to take down the beast lest the city—even the planet—is destroyed by this destructive force.
Okay, this is a first impression review, with some processing time after.
Batman v Superman is a comic book movie, and not in the campy sense. It has the feel of DC's direct-to-video animated features and there's an atmosphere to the movie that superheroes belong in the world created.
The downside to the flick is it doesn't work as a stand-alone film. There's no strict A to B to C to the story. It's more an introduction of story elements that will all play out in future DC movies instead. It's like the first part of a giant graphic novel, and it is my hope that years down the road when all the other DC movies are released, what we will have is one massive story instead of what is usually given to us in today's superhero flicks: each one a self-contained tale with subplots running through them that culminate in team-up adventures. If indeed DC's plan is to make one giant movie, then that's something never attempted before and never in the superhero genre. If this is the case, that's brilliant and should be applauded. It's jarring for moviegoers, but once they catch onto what's going on, they'll no doubt be amazed. After all, we do like our epics both on the big screen and TV.
Superman/Clark Kent. Once again, Henry Cavill delivers as the Last Son of Krypton. In fact, I think his performance is a step up from his previous outing in Man of Steel. That first flick was about Superman finding his footing, and while there is still some of that here, it's more about the world finding its footing now that Superman is on the scene. You can tell Superman has become a beacon of hope to the world despite how some might view him as a threat. He's bigger, stronger, and carries with him that air of awe and wonder Superman should. We're not supposed to relate to this god-like being, but instead look up to him as something and someone to aspire to, and Superman is very much coming into that form as the flick goes on. As for the Clark Kent side, reporter Clark in this flick was pretty much just Average Joe. There wasn't all that much involved in creating a clear line between Superman and Clark Kent, that strong sense of two separate people. I wish there was, but I also see how Average Joe works better in the reality established in these movies than someone who's an over-the-top nerd. At the same time, it would've been nice to see Clark trip over his own feet or bump into a desk or something to really give off that whole there's-no-way-this-guy-can-be-Superman thing. There was also one scene I had so hoped for in this movie that never came and that was the classic Clark ripping his shirt open to reveal the S. Perhaps in another movie.
Batman/Bruce Wayne. When Ben Affleck was cast, I got behind it right away. I'm an Affleck fan and knew he could deliver on what would be a worn-out Bruce Wayne, which would eventually give way to a worn-out Batman. What can I say? Affleck did a superb job. He did the playboy thing—though he could've played up the douche bag part a bit; yet at this point in his life, a cocky playboy might not be in the cards