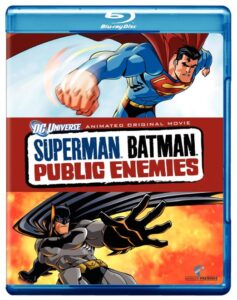 Superman/Batman: Public Enemies (2009)
Written by Stan Berkowitz
Directed by Sam Liu
Runtime 67 min.
4.5 out of 5
The Man of Steel has been framed for the murder of Metallo.
Now on the public's radar as a wanted man, Superman must team up with his greatest ally—and closest friend—Batman, to clear his name and show the public what really happened the night Metallo died. But before he can do that, he must survive an onslaught of superheroes and supervillains alike, all of whom have come to cash in on the bounty for his capture.
Meanwhile, a giant kryptonite meteor is on a collision course for Earth, making things even worse for the Man of Steel who has no way to stop it, especially since the President of the United States, Lex Luthor, wants to destroy it himself with nuclear missiles.
Will the Earth survive and will Superman restore his good name?
This movie, based on the graphic novel by Jeph Loeb and Ed McGuinness, Superman/Batman: Public Enemies, is a comic book fan's dream come true. Not only does it feature all of comicdom's two most popular icons, but also a super supporting cast consisting of Power Girl, Captain Atom, Major Force, Black Lightning, Starfire, Katana and a host of other familiar faces, including, but not limited to, Captain Cold, Mr. Freeze, Bane, Lady Shiva and a ton of others.
The story is solid, simple, but enough to really showcase each character: Superman as the one who doesn't kill; Batman as the disgruntled detective; Lex Luthor as the glory-seeking, power-mad President—it totally works. The pacing was bang on and not once was I bored. Even the humor was in-step with the rest of the movie and didn't come across like jokes from left field. Case in point, the giant robot in the end would've come across as goofy had not an explanation been given for the way it looked.
There was a good give-and-take between Batman and Superman in this flick, too, both in their banter with one another, their approach to doing things, and also in saving each other's bacon. Sometimes it seems that whenever the two team up, it's always Batman that saves Superman. It was awesome a balance was finally struck between who helps who and when.
I'm a huge fan of Ed McGuinness's rendition of Superman and to see that they mimicked that art style in this feature made this fanboy happy. His Superman is big and strong and powerful. His Batman is top notch, too, same with the other characters.
Of course, having Superman voiced by Tim Daly and Batman voiced by Kevin Conroy only adds to it as these guys were the voice talent behind these characters on their respective animated series. I really wish they would've been used for all the animated movies, but sadly that's not the case and, of course, there're different behind-the-scenes reasons as to why that is. Regardless, each actor captures each character perfectly, their tone, inflections and presentation reflecting the hero they're supposed to portray.
Superman/Batman: Public Enemies was one of the early feature-length DC animated movies and still holds up to this day as a classic.
Highly Recommended.