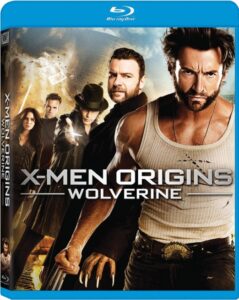 X-Men Origins: Wolverine (2009)
Written by David Benioff and Skip Woods
Directed by Gavin Hood
Runtime 107 min.
3 out of 5
Little James was born in the 1800s and was always sick. His family background . . . well, he didn't have much of one, at least, one that cared. Except for his friend, Victor. One night, during a drunken upset with his later-to-be-found-out father, James learned he could produce bone claws from his hands and defended himself, killing his father.
That night, James and Victor were on the run, and promised to always stick together. The years go by and the two find a great outlet for their rage: war. Victor (Liev Schreiber) also has a special ability and he is more animal than man, with claws coming out of his fingers. The two are very similar and age very slowly. War after war goes by, and the two eventually end up working with a secret team run by William Stryker (Danny Huston). While on one mission, James—now calling himself Logan (Hugh Jackman)—feels Victor has gone too far in his attack on an innocent and walks out on the group.
Years later, the group's been disbanded and Stryker comes to warn Logan that Victor is behind the recent string of deaths of its former members. The only way Logan will be strong enough to fight the always-stronger Victor is to undergo a special experiment of Stryker's own design: graft the indestructible adamantium to his bones. Logan agrees.
But there's something Stryker hasn't told him about what's been going on and when Logan finds out, he's furious and wages an all-out one-man war against Stryker, Victor and anyone else who stands in his way.
On the action: cool fight scenes and neat concepts. However, it seemed to me Logan was a little too acrobatic and was able to survive way more and take way more pain than even a mutant with a healing ability could.
On the story: works for me, in that we knew Logan had a history going in. He was the star of the X-Men movies after all, and X2 especially focused on Logan's origins as much as they were able to without detracting from the main story. I did like seeing what really went on and, more specifically, how Logan lost his memory. I was under the impression that he lost it because of the adamantium experiment and not after it. Doesn't matter, but I did feel for the guy when the love of his life wasn't all she was cracked up to be.
On Deadpool, because, you know, it has to be covered: the whole story involving the secret ops group Logan was a part of made for fun action. Deadpool's origin, hey, why not? To be honest, I don't know if they followed the comics or not because I'm more a DC guy than a Marvel one and don't know too much about Deadpool other than he's the "merc with a mouth." His transformation from normal-looking Wade Wilson (Ryan Reynolds) to disfigured Wade—good stuff.
Was this a perfect movie? No, unfortunately. It felt too cartoony as opposed to carrying with it the realistic tone the other X-movies had, namely the first two.
Will I see the sequel? Absolutely. I'm a saga guy so I want to see what happens next.
Check this film out if you're the superhero-movie-completist type like me.