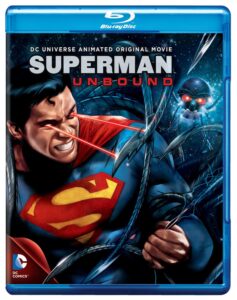 Superman: Unbound (2013)
Written by Bob Goodman
Directed by James Tucker
Runtime 75 min.
4 out of 5
When Brainiac shows up and threatens to destroy Metropolis, Superman and his cousin Supergirl must rise to the occasion and put an end to a foe that has deep ties to Krypton.
This was a good flick. Hey, it's Superman and lately DC's been pulling out all the stops and every time Supes gets the DVD treatment it's done really well. Supergirl's presence added a new dimension to the Man of Steel's animated movie exploits. Giving a quick showcase of her past, what happened to Kandor, and how those events created the motivations behind the Supergirl of this movie proved that sometimes less is more. Also understanding where she was coming from gave Superman a glimpse into a part of himself that he wasn't really ready to face: the need to sometimes go hard on bad guys for the greater good. Yet, being true to who he was, he was also able to soften Supergirl around the edges, which just goes to show how much you can learn from family.
The animation was smooth, the colors were clear, the action was great and the art was fantastic. The slightly too-long-of-a-face aside, I like the way Superman looked in this. The Clark Kent was so-so. More of a fan of the thick glasses than the more stylish ones, but whatever. In the animated series he had two thin circles for frames and that was it.
Lois looked good, too. My only gripe is, while I understand these movies are being made more and more for adults, there are parents out there who buy these flicks for their kids because a) they're superheroes, b) it's cartoons, and having Lois giving Brainiac the finger wasn't cool. Though I doubt it'll ever happen, there should be some sort of bold labeling or disclaimer on the package aside from the MPAA rating that lets parents know if there's content inside that is inappropriate for kids. This "giving the finger" is why I won't let my kids see this movie now. Something for DC to think about.
As a Superman fan, I've been loving all this attention the Man of Steel has been getting lately and since Batman was the focus of so many shows and animated features, giving the Last Son of Krypton a shot and a large amount of screen time helps balance all that out. I also hope DC has plans in the works for other animated movies for other characters, JLA stuff aside.
What can I say? DC and Warner Bros. keep knocking these flicks out of the park. Now, if they translate this awesome sensibility and sensitivity to the comics to the big screen on a consistent basis, then superhero fans will truly be living in a new golden era of superhero cinema.