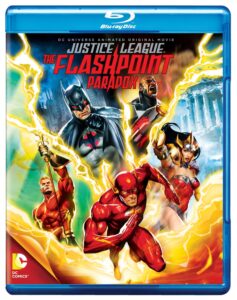 Justice League: The Flashpoint Paradox (2013)
Written by Jim Krieg
Directed by Jay Oliva
Runtime 81 min.
5 out of 5
When the Flash cranks up the superspeed and travels back in time to right a painful wrong, the timeline is drastically altered and he wakes up in a present that's not the one he knows. There's a war raging between the Atlanteans and Amazons, Batman uses guns, Cyborg works for the government and Superman is nowhere to be found. Worse, the Flash no longer has his superpowers thus cannot travel back in time to repair the damage and restore the timeline to the one he knew.
Powerless and with no Justice League to turn to, the Flash must decide how he's going to change the course of history and if he's willing to lose someone he loves—again—in the effort to save the lives of many.
This flick is the ultimate fanboy trip for Flash lovers. He's the main character and this is the first time in DC animated movie history that he gets the focus. You got superspeed, time travel, alternate timelines, the Speedforce and more. Way cool and, frankly, it's about time DC took a break from Superman and Batman as the go-to guys for movies, even in the context of a JLA movie. With a new Flash TV series in production as of this review, I'm thinking this was DC's way of priming the pump, so to speak, to get audiences ready for more adventures with the Scarlet Speedster.
This movie's strength lies in two areas: the Flash, and time travel.
On the Flash: you got a quick recap of his origin, a real sense for what drives Barry Allen, multiple amazing displays of superspeed (especially that running sequence at the end), and a hero to root for from start to finish. I loved it. As a DC guy, I like the Flash, but this film really made me appreciate him and care for him all the more as it gave a strong face to his mythology and character.
On time travel: I love time travel stories. The more scientifically accurate and plausible the better, but I'll take just about any story that deals with time travel, parallel universes and butterfly effects. I write about that stuff in my own fiction, for crying out loud. Here, DC went to great lengths to explain the time travel in a plausible way and apply what we know of its possibility as realistically as they could in the context of the movie. Nice. The DVD extras that go further into this are an added bonus for us time travel enthusiasts and are much appreciated.
Storywise, I loved this movie and the twists and turns it took made me go, "Man, that's awesome," more than once. When I found out the history behind the Batman of the alternate timeline I went nuts. So cool and so utterly tragic. Perfect for Batman. And Superman's portrayal in the alternate timeline? Crazy! Putting all that against a backdrop of an Atlantean vs Amazon war added a breath of fresh air to DC's animated movies because, like I said, it was relieving to stay away from putting the spotlight on Superman or Batman. (Granted, Batman plays a big part in this movie, but in such a way that it's not our Batman but another, which makes it fresh.)
The animated style chosen for this flick I wasn't crazy about at first, to be honest. The small heads and wider bodies looked weird. It grows on you, though, and eventually you get used to it. The color scheme and bleak tone throughout added to the overall feel of what was a heavy story, thus sucking you in further.
This is not a movie for kids, though. There's a lot of violence and gore, adult themes and some language. While I appreciate "grownup" superhero movies, I wish these elements would be scaled back a bit so I could show my kids these flicks and go on super adventures with them instead of having to shelve the DVD until they're older so they can watch it.
From a superhero fan's standpoint, Justice League: The Flashpoint Paradox is a stellar movie adapted from the graphic novel by Geoff Johns and Andy Kubert.
Recommended.