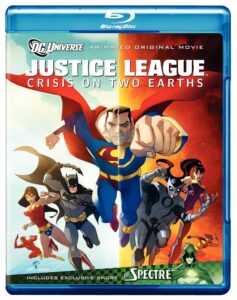 Justice League: Crisis on Two Earths (2010)
Written by Dwayne McDuffie
Directed by Lauren Montgomery and Sam Liu
Runtime 75 min.
5 out of 5
The superhero known as Lex Luthor travels from a parallel Earth to ours and summons the help of the Justice League to take on the Crime Syndicate, an evil version of the JLA from his own Earth. Agreeing to help him, the Justice League travels to Luthor's Earth and takes on the Crime Syndicate, pitting the likes of Superman against Ultraman, Wonder Woman against Superwoman, the Flash against Johnny Quick, Green Lantern against Power Ring, Martian Manhunter against J'edd J'arkus, Hawkgirl against Angelique, and, soon enough, Batman against Owlman.
In a true case of looking in a mirror darkly, Justice League: Crisis on Two Earths is a super heroic and super villained thrill ride that gives you two Justice Leagues for the price of one!
Such a simple premise but such a cool story. Why not have the JLA face themselves from an alternate reality? Who would win? If you're fighting someone every bit as powerful as you are, would someone come out on top? What if they thought like you? Talk about playing with one's shadow.
There's superpowers galore in this movie as each hero gets to take on their counterpart and show what they are fully capable of. More so, you get to see what our beloved JLA would be like had they taken other paths in life as the similarities and differences between them and the Crime Syndicate are explored.
A bunch of other heroes make an appearance in this flick as well, guys like Aquaman, Black Canary, Red Tornado (a personal favorite), Firestorm (another favorite), and more. Kind of a throwback to Justice League Unlimited in that way.
Don't be fooled, though, as this movie is more than just a superhero/supervillain slugfest. It gets into the deeper issues, the big one being about choice. In the context of the movie, if every choice we make spawns an alternate reality where the alternate choice(s) was also made, do any of the choices we make ultimately matter?
This movie is smart, interesting, and grabs you from the get-go. The action is top notch, the animation is ultra sweet, and if these direct-to-video DC Universe movies have proven anything, it's that they know how to make a good Justice League flick. I can't wait until they transfer that same know-how to a live action Justice League movie. Can you imagine how awesome that'll be?
Anyway, back to this one. This is such a good movie and is a must-have on any superhero fan's movie shelf. You not only get DC Universe's all-stars, but the all-stars of a parallel universe as well. Like I said above, definitely a two-for-one ticket and definitely worth checking out.