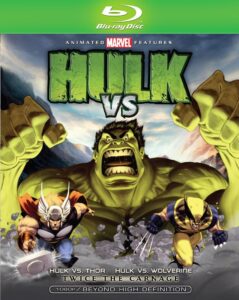 Hulk vs (2009)
Written by Craig Kyle and Christopher Yost
Directed by Frank Paur and Sam Liu
Runtime 78 min.
4.5 out of 5
Two short films, one explosive movie!
Hulk vs Wolverine: Logan (Wolverine) is called in to a small town that the Hulk just ravaged in an effort to track down the beast and stop him for good. However, once the two meet, they go head-to-head and battle to the finish. Different phases of the fight trigger certain flashbacks for Wolverine and he remembers bits and pieces of how he came to be and his history with Weapon X (who also shows up).
This part of the movie is all-out-hey-bub-come-get-some craziness. Wolverine lets it rip and him and Hulk go at it like no one's business, definitely making this segment the more exciting of the two in terms of action. I mean, Hulk really smashes and showcases his raw power and strength and, I'm telling you, there's no holding back.
Putting Wolverine up against Hulk was a smart move because here you got this guy who's tough as nails, has a healing factor, and has an adamantium skeleton—and claws!—that make him near invincible. On the I-can-take-some-serious-damage level, Wolverine is right up there.
I also appreciated how they had him slice into Hulk versus just having the two slug it out. Frankly, Wolverine's punches against the Hulk wouldn't him take him far, if anywhere at all. Have him start cutting the Hulk with his claws—and with them being adamantium, they can do that—now Hulk finds himself in some serious jeopardy if he's not careful.
Storywise, this one was the weaker of the two, but getting a brief overview of the Weapon X program and Wolverine's creation is a plus for fans. Besides, Deadpool is in this and who doesn't love that?
Onto . . .
Hulk vs Thor: Loki transports Hulk to Asgard while the city is no longer under Odin's protection thanks to his annual Odinsleep. By separating Bruce Banner from the Hulk, Loki removes the restraint on the Hulk and unleashes the green beast against the unsuspecting Asgardians. Thor steps in to stop the Hulk from breaking in and destroying the city. The two battle it out in the realm eternal and only one can be the victor.
Straight off, the storytelling of this one was much more complex than the Hulk vs Wolverine segment. I appreciated that and liked how Thor was dragged into this battle as opposed to him just trying to get back at Hulk for something or simply seeing who is the strongest.
Sticking Hulk in the realm of Asgard as opposed to having the story take place on Earth changes things up for those of us not used to Hulk fighting in that kind of arena. Throw some complex emotions and Hulk's inner turmoil into the mix by way of honing in on Bruce Banner, and you got a good Hulk story.
This one focused more on Hulk in that regard whereas the other one seemed to focus more on Wolverine despite this movie titled as being Hulk-centric.
The battles on Asgard were almost as good as the Hulk vs Wolverine ones, but not as awe-inspiring. I did like, however, Hulk going up against multiple opponents in this as he took on the Asgardians.
The movie as a whole—I wish they'd do a live action version or something similar if they ever do a follow up to The Incredible Hulk. To have Hulk not just have the army on his tail but also other powerful superheroes would make for an exciting flick.
You never know.
Hulk smash!