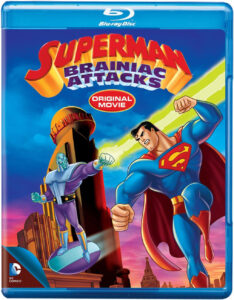 Superman: Brainiac Attacks (2006)
Written by Duane Capizzi
Directed by Curt Geda
Runtime 75 min.
3.5 out of 5
When Lex Luthor proposes an alliance with Brainiac to take down the Man of Steel, Superman must pull out all the stops to stop the seemingly unstoppable Kryptonian cybervillain. Meanwhile, Clark Kent examines his relationship with Lois Lane and considers telling her who he really is, but after she is poisoned, the clock starts ticking as Superman must try to find a cure while also stopping Brainiac and Luthor.
I love the animated style developed by Bruce Timm. It worked wonders on Batman: The Animated Series and then later they did Superman: The Animated Series the same way, and then after that they did Justice League and Justice League: Unlimited. It's a great style and this flick was done in that style.
This movie was pretty good. Wasn't awesome, wasn't terrible, was just above down the middle, I'd say. Brainiac is a cool villain, a very powerful one because he's nearly unstoppable. Throw in some Lex Luthor action and have them go up against the Man of Steel and you know Superman is in trouble.
Everyone was who they were supposed to be in this, except Lex Luthor. He wasn't as dark and serious as he was in the animated series and acted out of character. That's too bad because Luthor is a big part of Superman's world so you want to get him right.
Tim Daly—I love that guy as Superman. He has the right voice, the right delivery and every time DC does an animated movie and he's voicing Superman, it makes those movies all the better as a result. Too bad he's retired as of this review and his son, Sam, has taken over. Maybe he'll come back one day.
I won't spoil it, but it did have a satisfying ending and, since this was Superman's last solo animated adventure in the Superman: The Animated Series universe, it brought a smile to my face. I won't spoil it here. You'll have to see it for yourself.
Containing all the elements that make Superman such a beloved character—the Lois-Clark-Superman triangle, Lex Luthor, the Fortress of Solitude, Perry White and the Daily Planet, even Metropolis—Superman: Brainiac Attacks is a fun movie, kid-friendly and is a great addition to any Superman fan's movie shelf.