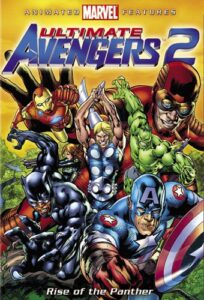 Ultimate Avengers 2: Rise of the Panther (2006)
Written by Greg Johnson
Directed by Will Meugniot and Richard Sebast
Runtime 73 min.
4 out of 5
Picking up pretty much right where Ultimate Avengers left off, Ultimate Avengers 2 starts off in Wakanda and the kingdom falls under attack from Herr Kleiser, who kills the king and sends the prince, T'Challa, into action by taking up the mantle of the Black Panther. Black Panther then heads to the city to find Captain America. The Avengers are assembled and head to Wakanda to stop the Chitauri threat, resuming their battle from the first movie.
I liked the first movie a bit better, but probably because it was the birth of the Avengers vs them in full swing but that's just me: I like origin stuff. Ultimate Avengers 2, however, is still a solid flick and falls right in line with its predecessor. (Always recommend watching these two back-to-back if you have the time, and with a little-over-an-hour runtime each, that's definitely doable.)
The battles in this flick are awesome and showcase some all-out superhero-vs-alien mayhem. Like the first, each character gets their moment to shine and it's like being reacquainted with old friends.
I love the depiction of the Avengers in this. Everyone is their stereotypical selves, something that they captured in the live action movie, but, to me, got even more right in this flick. Totally adds to it.
Like the first, the art direction is top notch. Everyone matches the way they looked in the first movie, giving it that sense of continuity. They had the same voice talent as the first for this as well. I love it when animated flicks keep the cast consistent outing-to-outing.
Watching this flick along with the first makes it a good final act to a stellar movie, but can also stand just fine on its own.
Glad I have it as part of my superhero movie collection.
Recommended.