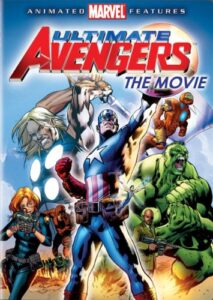 Ultimate Avengers: The Movie (2006)
Written by Greg Johnson
Directed by Curt Geda and Steven E. Gordon
Runtime 71 min.
4 out of 5
In World War II, the Nazis tried to launch an intercontinental missile and was thwarted by Captain America, but at great cost: Captain America fell into icy waters and was presumed dead. Some sixty years later, he was found and revived by S.H.I.E.L.D., who ends up convincing him to join their fight against the alien Chitauri. When the Chitauri attack, S.H.I.E.L.D. implements Project Avenger and begins assembling together Earth's Mightiest Heroes to take on the Chitauri and put a stop to them once and for all.
This ensemble flick is one of the greats and is a solid introduction for the uninitiated to the Avengers—Captain America, Iron Man, Thor, Black Widow, Giant Man, Wasp and Hulk—all led by Nick Fury.
It's evenly paced, exciting, and gives each member of the team enough screen time to give them a chance to lock in with the viewer and make that viewer-character connection before moving on to the next guy.
Marvel's direct-to-video efforts have been lacking and haven't been that great because they've been very busy—albeit very successfully—focusing their efforts on bringing their heroes to the big screen. Ultimate Avengers and its sequel are the major exceptions to their animated shortcomings and this movie is every bit as good as their live action counterparts. I also think that's the secret to making a good animated movie: treat it with the same care and seriousness as a live action film and you'll hit it out of the ballpark every time. It works in Japanese animation. No reason why it wouldn't work here in the West.
This movie was good start to finish. Had a story that spanned decades, and made you care about what was going on from first frame to last.
You have multiple plotlines going on, ranging from the Avengers dealing with the Chitauri to Bruce Banner trying to find a cure for the Hulk, to Captain America trying to find his place in the world. The amazing thing is they fit all these plotlines into a very short runtime (just over an hour).
The art direction was superb and I enjoyed how everyone looked in this, especially Hulk. (For me, he's one of those guys that don't always come out well.)
While there's a pretty good dose of violence in this movie, it's much more kid-friendly than the majority of DC's animated features and is safe for kids (depending on your household rules for this sort of thing). Personally, I let my kids watch it but don't let them watch the DC movies.
Whether a Marvel fan, an Avengers fan, or a superhero fan in general, Ultimate Avengers is a fantastic flick worth watching many times over. What's cool is it's basically part one of two and goes right into its sequel, Ultimate Avengers 2: Rise of the Panther, without missing a beat, so if you have both, you're in for a doubly-good time.
Recommended.