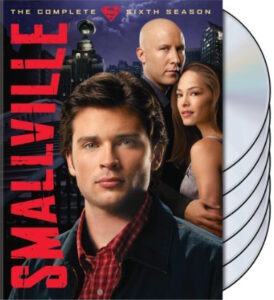 Smallville, Season 6 (2006 – 2007)
4 out of 5
This Season Had Me Seeing Green . . . Green arrows, that is.
Justin Hartley joins the regular Smallville cast as Oliver Queen/Green Arrow, billionaire business tycoon by day, daring Robin Hood do-gooder by night.
At first I wasn't sure what to think when I heard Green Arrow was going to have a place in Smallville's continuity. Of course, I was, like, "Hey, cool, another superhero joins the show and this one actually wears his costume!" Whereas the other part of me was, like, "What does Green Arrow have to do with Superman growing up, again?" All I can say without giving anything away is having Green Arrow join the show was a brilliant move. Not only does he demonstrate a good example for Clark, but his past and present conflicts with Lex Luthor also add a nice twist to the storyline.
Of particular note this season was the episode, "Noir," where everything was in black and white and took place in the '30s. Reminded me a bit of the Lois and Clark episode that did the same thing, but Smallville's was much better written and not as cheesy.
The over-arcing storyline of the phantoms that escaped from the Phantom Zone was cool and gave Smallville its trademarked horror-esque twist, but without continually going into Twilight Zone territory like it usually did.
I should add there was one more green element to this season: Martian Manhunter, played by Phil Morris. The only downside, though, was no alien visage but rather his shape-shifted human form instead. Oh well. The budget can only go so far, I suppose. Still, would have been cool if Martian Manhunter had more screen time, but this isn't his series.
The only thing that I didn't like about this season was Lex and Lana getting together. It really bothered me and didn't make much sense when looking back over the first five seasons. This is the reason I give it 4 instead of 5 stars.
Recommended.