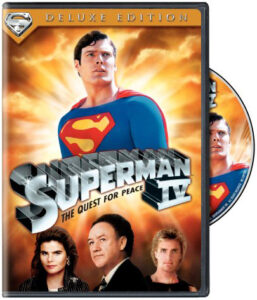 Superman IV: The Quest for Peace (1987)
Written by Lawrence Konner and Mark Rosenthal
Directed by Sidney J. Furie
Runtime 134 min.
3 out of 5
The world is on the brink and Superman takes it upon himself to rid the planet of all nuclear weapons. Of course, war is big business and Lex Luthor sees an opportunity to use the Man of Steel's quest for peace as a way to make big bucks. By promising various war moguls that he'll destroy Superman for a cut of the profits, he puts a genetic stew made from Superman's own DNA aboard one of the rockets he knows Superman is going to throw into the sun. After the Man of Steel does, Nuclear Man is born, a being bent on the destruction of Superman and to do Lex Luthor's bidding.
Will Superman stand against this solar villain or will he fail and let the world fall along with him?
This was the last box office outing for the Man of Steel for almost twenty years. I remember my parents taking me to the theatre to see it when I was just six and a half. At the time, sure, I loved it. It was Superman, it was at the movies, and I had no clue what the story was about. Just Superman fighting bad guys and that was all that mattered.
Nowadays . . .
As a general premise, it's a basic idea: save the world, your main villain doesn't want you to and thus creates something powerful to defeat you.
But something gets lost in translation and there are so many laughable moments in the movie that it's the worst of the Superman movies when it could have been the flick to redeem the franchise after the misfire that was Superman III.
The special effects are terrible. I don't understand how the SFX from the movies nine years earlier were better. Most of the flying scenes were like a cut-out of Superman against a still back drop. Even in one of them, when he's flying along the river, you can see the wake of the boat from the camera crew.
The fight choreography was overly-dramatic and something you'd see in a school play.
It seemed they either tried too hard with this movie and it all fell apart, or they just didn't try at all.
As always, Christopher Reeve was amazing as Superman. That's who he was.
Margot Kidder was back as Lois Lane in this one and you can see glimpses of the connection she and Superman had in Superman I and II, but nothing comes to fruition in this. Granted, this movie didn't have any romantic elements other than one scene where the two fly together, which was just repeated footage cut over a multitude of backgrounds. (They fly around the whole world in that sequence in record time, too.)
There is a lot wrong with this movie with plenty of story and continuity inconsistencies, never mind the introduction of new superpowers that are not in the comics or other films (i.e. Superman rebuilding the Great Wall of China just by looking it).
There were, however, some things right with the movie. One of my favorite parts is when Clark and Superman are invited up to Lacy Warfield's (Mariel Hemingway's) penthouse. Clark has to keep coming up with ways to disappear and become Superman and vice versa without tipping Lois and Lacy off that the two are one and the same. This was well done and the ways he does it are very creative.
Gene Hackman's Lex Luthor—yes, he is the greatest criminal mind of our time and for good reason. He does the part just as well as he did back in Superman I and II. Who else would come up with a way to destroy Superman that would also make him stinking rich in the meantime?
This is one of those movies that if you go in and see it for what it is, you'll be fine with it. Won't change your life, but you'll be fine with it. If you go in expecting a stellar superhero movie, especially one that could stand toe-to-toe with the super flicks of today, then you'll want to look elsewhere.