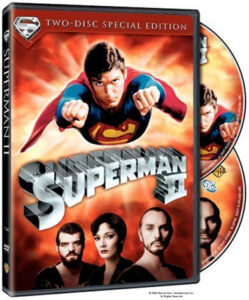 Superman II (1980)
Written by Mario Puzo, David Newman and Leslie Newman
Directed by Richard Lester
Runtime 127 min.
4.5 out of 5
Superman is back, and when he inadvertently releases three inmates from the Phantom Zone, he has to go up against three supervillains every bit as powerful as he is. Complicating matters, Lois Lane is getting wise to the possibility that Clark Kent might not be who he claims to be and that, just maybe, beneath those glasses is the Man of Steel she so desperately loves.
As the two become close and spend time together, the three Kryptonian villains arrive on Earth and wreak havoc and destruction. Meanwhile, Lex Luthor seizes the opportunity to cash in on the aliens' arrival and tries to exploit their powers for his own gain.
With the fate of the world hanging in the balance and Superman nowhere to be found, will the Earth fall to General Zod forever?
This is a great follow up to Superman I, and is basically a direct continuation of that story, with seeds for this one planted in the first movie. This is also true behind-the-scenes as Superman I and II were shot simultaneously but due to various complications, the version that came out in 1980 wasn't completely what was intended, and thus the birth of Superman II: The Richard Donner Cut, which is the subject of another review.
Regardless, this version is fantastic, beginning with a recap of the Superman origin and mythology during the opening credits, and jumping right into Superman action pretty much from the start. The ante is upped by putting Superman against not only someone who is his equal power-wise, but three people who are, never mind Lex Luthor as well, who is a big challenge to Superman in the struggle of brains vs brawn.
This movie at its center carries a lot of heart as it goes into the relationship between Lois and Clark and Lois and Superman, making for a love story that is every bit as good as some romance movies without transforming this whole film into a romance flick. The ending is heart-wrenching as you understand the cost of being Superman and even the cost of being someone close to him.
Like its predecessor, Christopher Reeve and Margot Kidder know their roles and fulfill them to a T. Same with Gene Hackman. Obviously, a great deal of this has to do with them filming Superman I and II simultaneously, but in the interest of watching them from one movie to the next, that seamless transition adds to the believability of the whole thing.
Terrance Stamp stole the show as General Zod, easily holding up against Christopher Reeve and oftentimes overshadowing him. He carried with him a powerful presence, and gave off a rage that only one who had been—in his eyes—unrightfully imprisoned in the Phantom Zone could give. Sarah Douglas as Ursa and Jack O'Halloran as Non did just fine in their roles, but their main score was their reverence and allegiance to Zod, which then added to Stamp's performance.
The super battle at the end was great and awesome for its time. Most of the effects were practical effects—the best kind, in my opinion—and so while nowadays these guys wouldn't look so tough fighting it out on screen, back then I remember being in awe at how mean and powerful the bad guys were and how Superman really had a run for his money.
Superman II carries the same awe and wonder that Superman I did, even more so depending on what angle you want to tackle it from (i.e. Supe