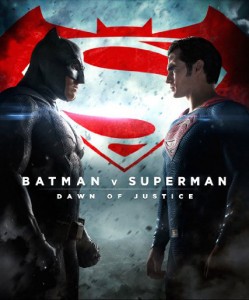 Batman v Superman: Dawn of Justice (2016)
Written by Chris Terrio and David S. Goyer
Directed by Zack Snyder
Runtime 151 min.
4 out of 5
After witnessing the battle between Superman and General Zod in Metropolis, Bruce Wayne takes it upon himself to ensure the Man of Steel isn't a rogue alien who might one day enslave the human race. In the meantime, Lex Luthor has sworn to ensure humanity's survival by securing for himself Kryptonite, which is later discovered to be the one thing that can weaken Superman. Worse, Luthor has a secret project tracking metahuman activity across the globe, which prompts Diana Prince to obtain the confidential data he has on her. To complicate matters, Luthor has also acquired the body of General Zod and creates from it an unstoppable killing machine—Doomsday, a being more powerful than even Superman. It's going to take Batman, Superman, and Wonder Woman to take down the beast lest the city—even the planet—is destroyed by this destructive force.
Okay, this is a first impression review, with some processing time after.
Batman v Superman is a comic book movie, and not in the campy sense. It has the feel of DC's direct-to-video animated features and there's an atmosphere to the movie that superheroes belong in the world created.
The downside to the flick is it doesn't work as a stand-alone film. There's no strict A to B to C to the story. It's more an introduction of story elements that will all play out in future DC movies instead. It's like the first part of a giant graphic novel, and it is my hope that years down the road when all the other DC m