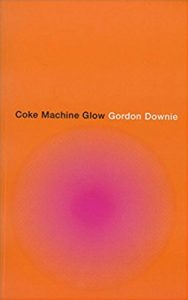 Coke Machine Glow
by Gordon Downie
5 out of 5
Aside from being a major Tragically Hip fan–and aside from being a fan of Gord's solo album of which this poetry book is named after–this book got to me. You know, deep down heart stuff. It's about life, it's about Canada, it's about observation, it's about asking questions that may or may not have answers.
That Gord. Man, he knows how to string words together, both poetically and lyrically. This book contains both the lyrics from Coke Machine Glow as well as other poetry. Gord's way with words is such that the subject matter of each piece is relatable in some way, whether overtly or subtly, depending on what's going on in your life. He is also the master of putting together what are at first glance unrelated statements, but upon thinking about them you realize they go perfectly together and beautifully compliment each other.
I've always been an advocate Gord Downie can put any set of words to music, and the lyric portion of Coke Machine Glow proves the point. Even the stuff that didn't make the album easily could have, so now I'm curious why he chose what was made into song and what wasn't.
Coke Machine Glow is an amazing and touching poetry book. It came with the CD way back when I got it a decade and a half ago and has remained one of my favorite books and albums since.
Highly regarded and highly recommended.