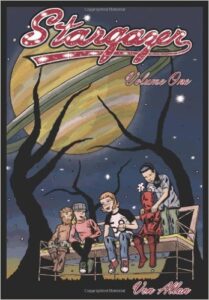 Stargazer Volume 1
by Von Allan
5 out of 5
After the passing of her grandmother, heartbroken Marni is having a hard time dealing with her loss. Her friends Sophie and Elora come to her side and try and comfort her. All Marni has to remember her grandmother by is a strange-looking artifact that looks more like an antique vacuum cleaner without the hose or cords than anything else.
In an effort to get back to a normal life, Marni and her friends have a campout in the backyard and Marni brings the artifact with them into the tent. After a brief tussle, the artifact transports them to a mysterious world, tent and all. The three girls now need to find a way home. The question is how? Perhaps the cute robot they discover can help them. He seems pretty handy, giving them food and all, but he better act quick because a foul beast lurks somewhere in the dark and Marni and her friends will be doomed if they don't stop it first.
This is my first exposure to Von Allan's work aside from what I've seen on his website (which I think I found while Googling Canadian cartoonists). I'm very pleased and Stargazer was better than I anticipated.
The writing: very solid. Allan's pacing is spot on and his delivery of information is succinct and gets you from point A to B without any clutter. I was very impressed with how he was able to convey what are very detailed story points, characters and the world they inhabit without him over-explaining everything. His word choice and placement does the work for you and tells you what you need to know when you need to know it.
The art: Lately I've been falling in love with black-and-white comic books and Stargazer further convinced me that the black-and-white comic book medium is an arena that needs to be explored by comic book enthusiasts everywhere. Von Allan's artwork is natural, shaded well, inked clearly and is detailed enough so you know what you're looking at, without you getting lost in endless black lines. His proportions are bang on and regardless of the camera angle chosen, each scene unfolds smoothly and easily.
The book: Well put together and well bound. I particularly enjoyed the non-standard size of the book (I think it was around 6×9 thereabouts) which made for easy handling when reading.
Von Allan also included extras in the back: a character gallery (very cool posters here); plot outline; brainstorming sessions; and even a few pages of sample script. I've always been a fan of behind-the-scenes material for books and comics and Allan's little package at the back of Stargazer was well put together.
I'm looking forward to what will no doubt be a dynamite Volume Two from a talented storyteller.
Keep 'em coming, Mr. Allan.