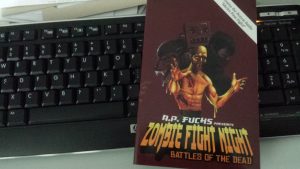 General Thoughts:
Since about the spring of 2009, I've been working full time as a writer and publisher. There have been a couple out-of-the-house gigs here and there since 2014, but otherwise I've been on my own. Even after the past seven years or so, it still all feels kinda new. If you know my journey and all that went on behind-the-scenes, you know it hasn't been an easy road, so to finally be able to live my creative dream after all those obstacles is surreal. There are days I feel like I'm doing something wrong; decades of being conditioned to think that all jobs need to occur at a place of business instead of in a home office still creeps into my brain once in a while. Calling my own shots and my own hours is something I'm still getting used to even after years of doing it.
On Working for a Living:
I've never been opposed to working for a living. I believe everyone needs to earn their own way through life and not live on handouts. To clarify, "earning their own way" is meant as don't be one of those people who sit around all day or count every day as play time. A person needs to work and that doesn't necessarily mean at a job-job. If you're a stay-at-home parent, you have my admiration because I did the stay-at-home dad thing for a long time and know how hard it is to maintain a home plus take care of a couple rugrats. Actually, stay-at-home parents work harder than anyone else if you count all the tasks and stresses associated with it. They make a living for everyone else around them even though they don't collect dollars and cents every two weeks.
The world owes you nothing.
Nothing.
If you want something, you have to go and get it.
On Living Without a Regular Paycheck:
My needs are small and, in recent years especially, I've become something of a minimalist in terms of being content and fulfilled by the basics: food, shelter, clothes, a means to work. All the rest is window dressing, and I don't chase the dollar sign nor do I want a rich lifestyle. Heck, I go to some friends' houses who are way more well off than I am and within a few minutes I feel out of place. Same with fancy restaurants or venues. I get uncomfortable. I'm good with my 110-year-old house with a crappy paint job and holes in my socks.
But in terms of working without knowing where the next paycheck is coming from, I've gotten used it and I've always been provided for even when I've hit lean times now and then. The basics have always been met and, at the end of the day, those are the most important.
Living without security has also taught me to ensure I get my butt in gear and produce books and items to keep those books selling which, when the payday comes, makes it even more rewarding than a guaranteed salary because I know had I not made the effort to move the books, I wouldn't be able to buy my next box of cereal.
It was a hard leap to plunge into what was essentially the world of sales and commission. When you're used to a regular 9-5 and have been brainwashed by everyone in your circle that security is the way to go, it was a challenge to start working without a net.
Nowadays, I like the thrill of the chase. Even as I type this, my June is up in the air monetarily speaking, but I know I'll be okay once it rolls around.
On Community:
The greatest reward is the creative community I've plugged myself into over the years. If I were to corral the people together into categories, they fall into two major groups: my on-line horror buddies whom I spent hours and hours with over the computer back in the early days, and the second group is a local one I started getting involved with in the fall of 2014. (Social media killed that first one.)
Writing is an incredibly lonely job. It's fun while you're doing it and is best done by yourself, but when you're doing all the peripheral tasks of independent publishing, it can get lonesome sitting there at a computer all day. Having a group to connect with now and then in the real world has enabled me to get out of the house and be an off-line human being. It has filled me up in ways digital connection cannot, and since I'm generally opposed to living my whole life on the Internet, has been quite welcome.
Final Thought:
I don't know what the future looks like creatively-speaking. Truthfully, I don't want to know. But what I do know is come the day I'm lying on my deathbed, I get to lay there and look back over my career and know I had a fulfilling working life doing what I love on my own terms. That's something money can't buy, is something I can take with me as I leave this world, and an example I can leave behind on what it truly means to be rich.