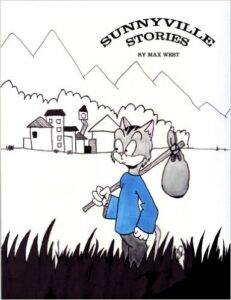 Sunnyville Stories, Vol. 1
by Max West
5 out of 5
I've been following Max West on Twitter for quite sometime and finally got around to getting a copy of Sunnyville Stories Vol. 1.
I love this book. It's old-fashioned cartooning mixed with clever wit and wholesome storytelling. Most importantly, Max's comic series has the one thing that's missing from the mainstream comics of today: heart.
There's a soul to this book, one that made me feel good inside when reading it. The art is classic cartooning, with that down-to-earth quality that I love about indie comics. The stories are simple, relatable and enjoyable.
Do I want to read the next volume of Sunnyville Stories? You bet I do!
Count me a fan. This book is good stuff.
Recommended.