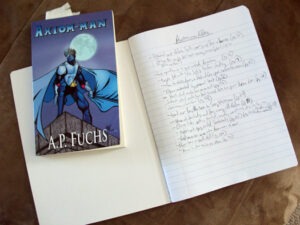 As per my last post, the project right now is to reread The Axiom-man Saga thus far. It took a few days to get going, but now I'm in the midst of reading the first book. It's strange reading it as just a reader versus going over it for edits. I admit that the editor side of my brain is looking at ways to tweak this or change that, but then I remember that I'm reading it for the joy of reading it and also to take notes, no other reason. A writer's work is never done, it seems. The book was also written by a different guy some eight years ago. I was a different man back then with a different writing style.
It is cool, however, to see the character in his infancy, to see him stumble along as he tries to figure out this whole superhero thing. At the time the story takes place, he's only been at it four months, a time frame that isn't long enough for someone to be truly adept at being a hero. It's also neat considering I know where the story goes and is going, and I'm looking at Axiom-man thinking, Man, you have no idea of the scope of things ahead of you, how your universe and the reason for your existence is this huge thing and here you are still getting used to wearing a costume beneath your clothes.
Like the picture shows, I've been taking notes, little things that I want to mention in the upcoming four-book arc or things simply for me to keep in mind while writing it. The main points I'm after are mythology-related and certain items that foreshadow where I'm ultimately leading everybody. I want to make sure I don't leave anything out because the upcoming storyline is meant to wrap up everything that's come before.
After reading this first book, it's onto First Night Out, which takes place between the "Four months earlier . . ." segments of Axiom-man and the novel's main story.
Like last entry, I'm asking for those who've read the series to come forward and write reviews. Reviews help spread the word and I'm hoping to grow The Axiom-man Saga in the coming year into something more prominent in the superhero fiction market.
On a side note, I'm tabling at the Winnipeg Comic and Toy Expo this Sunday at the Viscount Gort Hotel in Winnipeg. Hope those in town can come out, say hi, and talk superheroes with me.
Until next time . . .