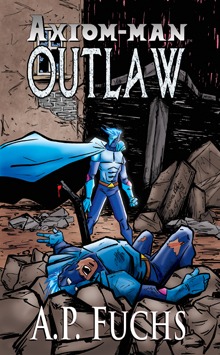 Last entry I mentioned I decided what series of projects I'm going to do next.
Today I reveal them.
They are four new books in The Axiom-man Saga!
They will make up the first-ever prequel and trilogy in the series. They will still follow the main feature/episode/main feature/episode reading format established thus far, with the prequel to be an episode novella and the trilogy–name to be revealed later–to be one main feature book, an episode, then finishing in a main feature book.
I have these all blocked out in my head and what each one is going to be about. The plan is to tie up all loose storylines from the first seven books.
The cool part, too, is these will all be written marathon-style as I've found with my past few books that I write really well just going whole hog and typing 6-10k a day (sometimes more). For this series I plan on writing all four books first then releasing them so fans can get the whole story in one shot instead of waiting between each installment.
The titles for each of the books will be revealed after they are written. I found a word count widget–I think it was yesterday–that I'm going to use for each one and post them on the side of the blog so you can check in and see the progress of each book as I go along. The goal word count will be an estimate as I really don't know the final word count until a book is finished, but the widget requires I put something as my end game.
This week is Spring Break so my boys are home thus working is tricky as I juggle Dad duty and book stuff, so my first step is to re-read The Axiom-man Saga to date and make sure I remember all loose threads so they can be addressed when I go to town writing the new series. I also have some cool plans for the cover art so I'll be getting in touch with the artists soon to share with them my vision.
I'm really excited for this next set of books as they've been in my head for years but only now is Axiom-man at a point in his superhero career where he is able to take things to the next level.
In the meantime, I'm asking readers who've read the first Axiom-man book–or any of the others–if they'd be willing to put up a review on Amazon. Reviews go a long way in selling books and I'd really like Axiom-man to have his day in the sun, so if you've enjoyed any of the books in the series, would you be willing to help out and take a few minutes to post a review? The first book in the series can be found on Amazon here. Thank you to those who are able to write something. It means a lot.
I have more things planned as we lead up to the release of this new story arc, but in the meantime . . . I got some reading to do.