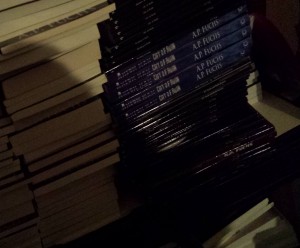 Well, we've really done it, haven't we?
And we're all to blame, every one of us.
Writers, editors, publishers, marketing departments.
Indie or traditional, we're all guilty.
Some call this the Golden Age of Publishing and the best time to be a writer.
Still trying to figure out why. That is, why in the truest sense. Sure, the arguments are it's easy to get your work out there and some of have made a goldmine. That's not reason enough to give this era of publishing the labels we have.
For those who don't know, I started writing my first book in 2000. I published it via a vanity press in 2003. Starting in 2004, I began self-publishing all my novels through my own company, my traditional "outbound" sales being short stories. Being independent back then was considered taboo and the kiss of death. If you publicly declared you published your own work, at least in writing and publishing circles, you weren't a real writer and eBooks weren't real books. You weren't even a real publisher.
It bothered me for a few years, but then I didn't care and proudly flaunted what I did. If you didn't like it, too bad.
I made a name for myself in small press circles and became a minor local celebrity. Back in the beginning, back when I was writing that first book, there were a couple of months where I dreamed of fame and fortune. Not anymore. Don't want it. But that's another blog entry.
As my career progressed, I've seen writers come and go, publishers rise and fall, and the industry drastically change. I've made amazing friendships and networked with so many people, some of whom are very well known. I've stuck to the small press by choice and have dealt with the major league publishers while my publishing company was in full swing and I worked with other authors.
These days, I'm alone again. By choice. My meltdown in 2014 led to that and, in some ways, I'm still recovering.
That's a quick history of where I'm coming from.
Back to why I decided to quit the publishing business: to be honest, I won't no part of it. Not in the way it is right now. Over the past few weeks I've spoken to a several writers about how things are going. I'm paraphrasing, but they all said the same thing: not very good. Can't get readers.
Over the months and recent years leading up to this past little while, I've heard the same thing. It's getting progressively harder and harder to reach people and books can no longer–for most–be one's sole source of income. And I'm not even talking massive money, to be clear. For many, making a thousand bucks off one's books in a year is doing well. But to make a livable wage of, say, twenty or thirty thousand? Forget it.
Sure, there are genre exceptions. Erotica's a big one. I know a guy who's main love is horror, but that doesn't pay the bills, so he writes pornographic books to make up the difference. Certain romance genres are also big. But other genre fiction from average Writer Joe? Forget it.
The market is flooded. Everyone is publishing a book these days, quality be damned. And those who do put in the time and effort and monetary investment for quality are just nameless voices on the wind. Some said the cream would rise to the top. I have yet to see it, and that statement was made years ago.
Heck, some readers are stopping reading independent titles altogether because they've been let down too many times. You don't have a name that's recognizable and one that can be counted on to deliver the goods? Back of the line, please.
That opening line to this entry? It's true. Here's what happened:
A certain on-line juggernaut was a good place to get books. There were many others, but this big on-line place was a favorite. They offered a few breaks, saved you some shipping, discounted things by a couple of bucks. It became a common place to refer people to. We all sent them there. Over and over again. The company grew–exploded–and came out with their own publishing platform. That caught like wildfire and stories of near-instant millionaires tickled the ears of writers everywhere. A little more time passed and everybo