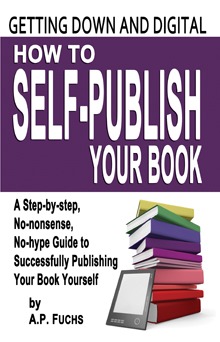 Choose Your Target
by A.P. Fuchs
(from Getting Down and Digital: How to Self-publish Your Book)
You need to know where you're going before you can figure out what you're doing. A simple—even obvious—principle, but one often overlooked by writers and artists looking to get their work out there.
I made the mistake of jumping right into this business and publishing my first book, A Stranger Dead, via a vanity/subsidy press. Next thing I knew, I was in the hole around $2500US and never made my money back. Back then, because of the US-to-Canadian-dollar exchange rate, you could add about 40-45% to that bill, so I plunked down somewhere around $3,625 Canadian for a book that went, well, nowhere. I think, all told, I recouped maybe a couple hundred bucks and that was it. Of course, a couple hundred is better than zero, but had I known that jumping in without stopping and researching and honing my craft, I would've come up with a different plan, especially since I was trying to make writing my livelihood.
Yet many jump in. They believe the Kindle hype and jump in. They pay someone to publish their book and jump in. They hook up with a small press without knowing its history or who's behind it, and jump in. The list goes on, and heartbreak and frustration often follow.
The problem with jumping in and not knowing how to swim is that you drown.
Like all journeys—and believe me, publishing is a journey and not some place you can just get to by stepping out your door and, poof, there you are—you need to figure out where you're going first. And this destination is different for everybody.
It's based on goals.
There are a few categories of people when it comes to the publishing business and though money is involved, it's not all that's involved.
The first thing anyone needs to do before they embark on any creative journey in regards to getting their work out there, is to decide what their end game is.
No way around this.
Don't go any further without establishing this. Without it, it'll be like being in the middle of the ocean and not knowing which way to swim to get to land. You will quickly tucker out as you try different directions, get frustrated, even mentally broken in some cases and, eventually, you'll pack it in.
There are three general categories the writer falls into. Find which one you're in and you'll make your life easier going forward.
The Hobbyist: this person creates solely for fun. Money is not the main motivator and they usually give away their work for free or sell it for very, very little, the main drive simply to have a good time with their art and that's it. They might also not even distribute their work and just fill up a hard drive or journal with their stories solely for their own amusement.
The Part-timer: this person is interested in making money with their work, but thanks to either a working spouse or a job they love, their craft isn't a career-goal for them. Regardless of the money involved—but there has to be some as they are, indeed, looking at their art as a "part-time job"—the main motivator is to use their art to put food on the table in conjunction with other sources of income.
The Full-timer: this person aims to make their art their sole livelihood and so work their butt off to obtain that. Some find success right away, others take years, even decades. The amount of money it requires to achieve this varies on lifestyle and personal desires.
Each of the above involves taking a different path. Though "all roads lead North" isn't true for this biz, there are many roads to achieve each of the above goals, most of them being a case of finding what works for you and running with it.
However, generally speaking, the roads look something like this:
The Hobbyist: with money not really an issue and/or motivator, this person will either invest their own funds into their project, put it out themselves, distribute however and whenever, or simply throw everything up on the Web for free and call it good. They might publish with a small press and if the book is a flop, it's a non-issue for them. Also, as previously mentioned, publication might not even be pursued and the stories are kept private in journals or on a hard drive.
The Part-timer: money being a consideration, this person will either get involved with a small-to-medium-sized press, make a few hundred dollars to a few grand a year, and are more than happy with that.
The Full-timer: with their livelihood at stake, this person will aim to find incredible success with a traditional publisher, whether big, medium or even small, depending on the number of copies sold. Though lifestyles vary, $20-25,000 minimum would probably be required to live off of if you are single in today's economic climate. To secure this kind of advance for a first-time author is difficult, but not impossible. First-time author advances range from $100-10,000 in general (and depends on the size of the press), but with a good marketable book and a good agent, getting $20,000-plus up front isn't farfetched. While the high-end first-time author advance of $10,000-$20,000 may or may not be enough to live on, it does give you access to a publisher's resources and distribution channels, their brand and connections, and, you never know, your book might take off thus putting you in demand and getting you a higher advance for a second book. There's also the possibility of signing a first-time author multi-book deal (i.e. $30,000 for 3 books at $10,000 each).
All three of the above can also take one final path: entrepreneurship, in other words, self-publishing, which is the main focus of this book.
Each goal can also be achieved self-publishing-wise based on one's entrepreneurial model.
You can also mix-and-match, meaning you can shoot to be a part-timer but end up scoring on the publishing roulette wheel and still net a full-time income on the side.
In the end, goal-setting is priority one. It's the first step. You've got to know which way your feet are pointed before you can walk out the door.
I'll emphasize it again: you must do this if you are to save yourself weeks, months or even years of frustration and spinning your wheels.