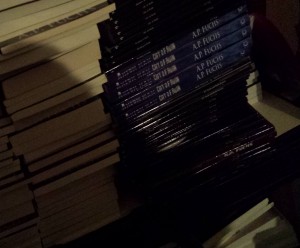 Well, we've really done it, haven't we?
And we're all to blame, every one of us.
Writers, editors, publishers, marketing departments.
Indie or traditional, we're all guilty.
Some call this the Golden Age of Publishing and the best time to be a writer.
Still trying to figure out why. That is, why in the truest sense. Sure, the arguments are it's easy to get your work out there and some of have made a goldmine. That's not reason enough to give this era of publishing the labels we have.
For those who don't know, I started writing my first book in 2000. I published it via a vanity press in 2003. Starting in 2004, I began self-publishing all my novels through my own company, my traditional "outbound" sales being short stories. Being independent back then was considered taboo and the kiss of death. If you publicly declared you published your own work, at least in writing and publishing circles, you weren't a real writer and eBooks weren't real books. You weren't even a real publisher.
It bothered me for a few years, but then I didn't care and proudly flaunted what I did. If you didn't like it, too bad.
I made a name for myself in small press circles and became a minor local celebrity. Back in the beginning, back when I was writing that first book, there were a couple of months where I dreamed of fame and fortune. Not anymore. Don't want it. But that's another blog entry.
As my career progressed, I've seen writers come and go, publishers rise and fall, and the industry drastic