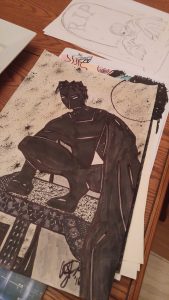 This is a hello message going out into the blog-o-sphere letting you know I'm still alive and am working on various things as evidenced by the picture for this post. We're doing a combination of writing and artwork over here, slowly but surely chipping away at the obscene amount of projects on the docket. No, really, there's a ridiculous amount of work to be done and I'm not sure there's enough coffee and uppers in the world to see me through. I am also not immortal so if you have an in on a mechanical heart that won't conk out on me, let's talk.
However, it is my pleasure to report that work is being done and things are looking good in terms of achieving the end game of all this. If you are a subscriber to my newsletter–which you really should be–you'd see what I've been up to week to week. For those of you who are not, this blog entry is for you. (Though, again, you really should be subscribing to The Canister X Transmission. All the cool kids are doing it.)
Further, despite having some medical issues occur that have knocked me on my backside and tried to take me out of the game, we're still going strong here in a top secret location that is known only to me and the dog at my feet.
In summary, for the artwork side of all this, follow me on Instagram because that's where items are posted.
For the wordsmithing side, you'll just have to watch the newsletter and this blog for announcements. Actually, the occasional Instagram pic of what's going on shows up now and then so there's that, too.
It's a blizzard out there today and I'm about to go into it for something I need to attend. Got my snowshoes ready.
Take care.