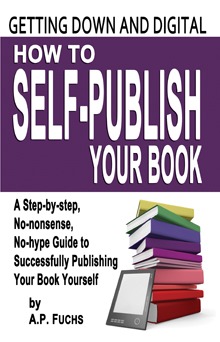 My how-to book on self-publishing, Getting Down and Digital: How to Self-publish Your Book, is going out of print in a week. That means you have one week to get your copies before I pull the plug. Why am I pulling the book? Because it is dated. The how-tos on formatting and design are all still relevant and important, as is the information on self-publishing in general, but the sections on uploading to the different interfaces are now out of date because the platforms featured changed how they do things. I don't want someone getting the book then hitting the part about uploading and what they see in the book doesn't match what's on their screen.
The book, for those still interested, will be available for direct order only going forward until I've depleted my stock here at the Central, but the distribution access is being stopped in 7 days.
If you're looking for general self-publishing information, my weekly newsletter, The Canister X Transmission, usually has something in it likewise with its collected counterparts. My other book, Canadian Scribbler: Collect Letters of an Underground Writer, also contains lots of self-publishing information in the correspondence.
Thank you to everyone who supported Getting Down and Digital: How to Self-publish Your Book over the years. Hope you found it helpful.