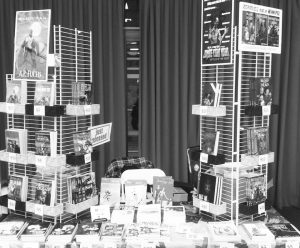 This article was originally published January 7, 2016 on the Operation Awesome Blog.
With so many writers these days focusing all their marketing efforts on-line, they're putting themselves in a corner and limiting their exposure. Off-line sales are where the bread and butter is at if you play your cards right.
I'm talking conventions, which are basically glorified book signings.
Since 2007, I've been tabling at Central Canada Comic Con here in Winnipeg, a giant comic book convention. This show is also a big part of my paycheck, and my books fit right in because I write nerdy stuff like monster stories, superhero fiction and sci-fi.
A lot has been learned about having a successful show over the years. Here are some basics to get you started:
1. Display
Have an eye-catching display. When competing against so many other booths and tables, you need to stand out. Bring a tablecloth because not all shows provide them. Use signage, big ones, like 11"x17" set up on stands so folks catch sight of your book's cover or what the deal of the day is. Want to really stand out? Get a big banner printed up, one you can put behind you. This can display your name and what you do. It can feature your book covers, a web address. Lots of options.
By all means, lay your books flat if you want, but if you prop them up on book stands, all the better. It raises them above the table and draws the eye. Simple picture frame stands work fine. I use iPad ones because they compact better for transport.
Have a series? Lay them out in order of reading.
Write in multiple genres? Organize them as such on the table. Makes it easier to direct the customer to what's what.
2. Pricing
Big sales point. Offer convention-only pricing. I do ten dollars a novel, five bucks a novella. I make sure the customer knows the convention is the only place to get the deal. Get my stuff at a store or on-line and you'll pay more. Everyone likes saving money.
You can also bundle your books. Have a series? Instead of three b