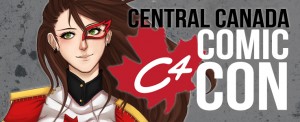 Today I committed to appearing at C4's Winnipeg Pop Culture event on April 9th and 10th at the RBC Convention Centre. This will be the first time in two years C4 has hosted a spring two-day event. The last two-day event was in 2013, and in 2014 and 2015 they held a couple of one-day events–one in the spring, one in early fall–before the big show toward the end of the year.
I'm looking forward to it and getting my geek on. My plan is to bring the whole catalogue just like I did for Horror Con. I still have a small amount of free copies of A Stranger Dead available so these will be given away with each purchase. Offer good while supplies last, and once they're gone, they're gone. Not getting anymore in because that book is long out-of-print.
Look forward to seeing you there.