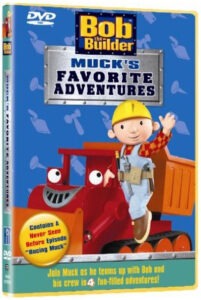 Bob the Builder – Muck's Favorite Adventures (2008)
Runtime 35 min.
5 out of 5
Well, we all got to start somewhere, right? This was my first Bob the Builder DVD. Well, not mine, but my two-year-old's. But it still felt like mine because it dominated our television from morning 'til night, my kid constantly asking, "Watch Bob? Watch Bob?" 'til I put it on for him.
High morals, fun jokes, problems only an experienced builder like Bob can fix—What more can anyone ask?
But the biggest joy was watching my kid smile and raise his arms every time the "Bob the Builder" theme song played.
That's what made this DVD worth it.
That's what will make it worth it for you, too.
Can we fix it? Yes we can!