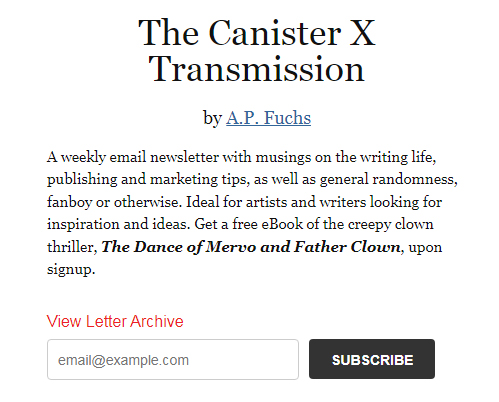 It's been two issues since THE CANISTER X TRANSMISSION went on a temporary hiatus . . . for a long time. It was needed. Not so much a break from the newsletter itself, but a break from the writing world in general. But now I'm back and am feeding you words every day. Videos, too, but those are fun.
THE CANISTER X TRANSMISSION: YEAR FOUR and THE CANISTER X TRANSMISSION: THE LONG YEAR FIVE are at the printer's and distribution is already underway. Since it's not fully underway, I haven't officially launched the books, but I will. Soon.
People might wonder, "Why should I buy these collections, even a cheap eBook, when I get them in my inbox every Saturday?" Good question and a fair one. My answer is two: 1) You get a bonus issue in each collection, one not available anywhere else so if you enjoy the newsletter, it's something extra for you. 2) It's a way to show support for free content. Three bucks for the eBook where all issues are in one place and you don't need an internet connection to read them. Sort of a way of putting a few bucks in a busker's guitar case, if you want to look at it that way.
Anyway, more issues to come. More content to come. More [hopefully] amusing items to read.
Besides, you get my killer clown novelette free as a thank you for subscribing. Funnily enough, the same question about the collected editions of the newsletter can be asked for THE DANCE OF MERVO AND FATHER CLOWN. But my answer is the same: Supporting free content and supporting the creator who made it for you.
But enough about sales. It feels good to be writing THE CANISTER X TRANSMISSION again. It's sort of a way to air out my head plus also introduce you to stuff that you might've missed during the week. You can read over two hundred back issues for free here.
Speaking of which, I don't post every video I make to my blog. Lots of shorts and reels go out during the week so to ensure you get them, head on over to YouTube or TikTok and follow along. This way you won't miss anything video-related.
Crap. I did it again, didn't I? Just pitched you on something. Bad habit.
ZOMTROPOLIS: A RECORD OF LIFE IN A DEAD CITY is about to enter the editing stage so I can make my end-of-October deadline for release. I've been through the book a few times already, just not the new stuff I wrote to complete it. It will be an easy edit for both myself and my editor. Then it goes into production and the cover is made and ta da! Book.
Hope you check it out once it's released. I'll be making a big stink about it so you'll probably hear about it somehow.
Anyway, time to get back to work.
Enjoy your day.
One step at a time.