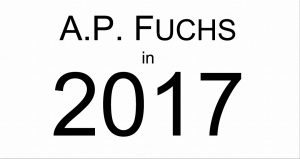 I commit to nothing.
Bwahahaha.
Post over.
Kidding.
However, I meant the above: I commit to nothing.
Instead of doing the usual writer shtick of announcing what projects are coming out and when, I'm simply going to announce them as I complete them.
There are only three confirmed titles coming from me in 2017 thus far. They have already been announced on this blog, but I will mention them again and mention why I know they are guaranteed to be released.
The Canister X Transmission: Year Three – This is being written week-to-week and, like Years One and Two, the collections have been published within a couple of months of that newsletter's year having ended.
Untitled Flash Fiction Collection – This is part of the Year Three experience, so each week a new piece of flash fiction is sent out to readers. A total of 60 pieces of flash fiction will comprise this collection–52 from the weekly newsletter, a 53rd from the collected edition of the newsletter–and the remainder to be written afterward.
Axiom-man and Auroraman: Frozen Storm – This is a novel I will be writing for a kickstarter project that begins in March. Since it's being kickstarted, and assuming Auroraman creator Jeff Burton and I hit our goal, this book will be published on time for backers.
Regarding Secret Project No. 1 and Secret Project No. 3–projects mentioned in my newsletter–they will be announced upon completion. What about Secret Project No. 2, you ask? Since it ties directly into Secret Project No. 1, I can't say anything about it just yet.
As for other works in various stages of finishing, same deal: they will be announced upon completion.
Commit to nothing.
I have also restructured my 2017 on-line marketing efforts and just today finished automating the whole year. There will be some manual posts but the rest will be the social media bots doing my bidding.
Your best bet in keeping up-to-date on things is by regularly checking this blog or subscribing to my newsletter.
Have a safe and Happy New Year.
See you in 2017.