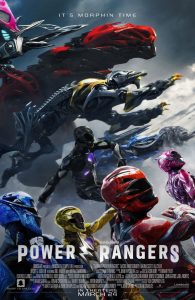 Power Rangers (2017)
Written by John Gatins
Directed by Dean Israelite
Runtime 124 min.
4 out of 5
Sixty-five million years ago, when dinosaurs ruled the Earth, a war raged between Rita Repulsa and the Power Rangers. All the Rangers were killed—except one, who in a last-ditch effort defeated Rita and hid the power coins should she rise again. Now, Rita has returned and five accidental friends discover the power coins and must learn to work together as a team before Rita captures the Zeo Crystal and destroys all life on Earth once and for all.
Like most of my reviews, this one is written upon first impression—in this case, the same night I saw it at the theatre—and, man, this was a cool movie. Power Rangers is a guilty pleasure of mine and I've seen most of the entire saga. To find out it was hitting the big screen again and was to be done in a more serious manner—instead of an extension of the TV show—made my inner fanboy squeal with delight.
This is an origin story, so we get the personal backgrounds of Jason (Dacre Montgomery), Billy (R.J. Cyler), Zack (Ludi Lin), Trini (Becky G.), and Kimberly (Naomi Scott), as well as how they found their place on the Power Rangers team and, ultimately, as friends. What I particularly liked was a glimpse into Zordon's (Bryan Cranston) and Rita Repulsa's (Elizabeth Banks) origins. It was a cool twist on the Rangers mythos that I thought was clever.
The movie is a bit of a slow burn in terms of so much origin building before Power Ranger action, but once the team gears up and heads out, it's good times, with loads of martial arts and mech excitement. The zords rocked, and the Megazord was reminiscent of Pacific Rim in terms of its operation.
On the visuals, the SFX were great. In terms of style, they were a touch too mechanical for my liking, but that same mechanical extreme also made sense in this morphin' world and the alien tech used for the Rangers. Same with the Rangers' costumes. Very Iron Man-like but, again, it makes sense for the world they inhabit. They certainly couldn't have fought in tights. The only other option, I suppose, would have to have given them their "tights," but modern day Superman- or Batman-style, that whole "armory fabric" thing.
The flick is perfectly set up for a sequel, and given the few sequences we see at the end, doors were left open for a certain favorite character as well as a certain base of operations.
I should also add we were treated to a couple fan-favorite cameos, which made me cheer despite how brief it was seeing them.
If you're lookin' for a morphin' good time, Power Rangers is a great all-ages movie despite one or two bad words (I mention this for the parents). Like the TV show, the movie is filled with heart and good old-fashioned moral values.
Go go, Power Rangers!