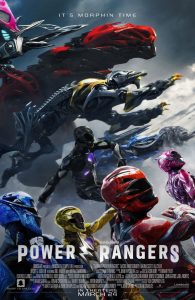 Power Rangers (2017)
Written by John Gatins
Directed by Dean Israelite
Runtime 124 min.
4 out of 5
Sixty-five million years ago, when dinosaurs ruled the Earth, a war raged between Rita Repulsa and the Power Rangers. All the Rangers were killed—except one, who in a last-ditch effort defeated Rita and hid the power coins should she rise again. Now, Rita has returned and five accidental friends discover the power coins and must learn to work together as a team before Rita captures the Zeo Crystal and destroys all life on Earth once and for all.
Like most of my reviews, this one is written upon first impression—in this case, the same night I saw it at the theatre—and, man, this was a cool movie. Power Rangers is a guilty pleasure of mine and I've seen most of the entire saga. To find out it was hitting the big screen again and was to be done in a more serious manner—instead of an extension of the TV show—made my inner fanboy squeal with delight.
This is an origin story, so we get the personal backgrounds of Jason (Dacre Montgomery), Billy (R.J. Cyler), Zack (Ludi Lin), Trini (Becky G.), and Kimberly (Naomi Scott), as well as how they found their place on the Power Rangers team and, ultimately, as friends. What I particularly liked was a glimpse into Zordon's (Bryan Cranston) and Rita Repulsa